One of the Best Romantic Inns We've Ever Stayed In...
Don't you love romantic inns?  On our 15th wedding anniversary we were looking for a truly special place to celebrate our special day, so we needed an equally special place, especially since we've traveled all over the world and have stayed at some really wonderful, unique hotels.
But of all the romantic inns we could choose to celebrate our anniversary, which one did we pick?
The Smithfield Inn, in Smithfield, Virginia.

Look below for a link to current events and festivals in Smithfield, the #1 day-trip destination from Williamsburg and Virginia Beach!

I'd toured the rooms several years earlier, and I knew just which one we wanted: The Annie Mae Sykes Room. It's truly like spending the night in Versailles. Lush silks, elaborate brocades, a canopied bed, and a decadent day bed. Truly heaven!

We started our evening with dinner in the dining room. The cuisine was delicious-- we tried the Beef Tenderloin with twice-baked potatoes, and the Seafood platter, which included two HUGE scallops and two petite crab cakes (perhaps the best I've tasted--all crab!), accompanied by sweet potato fries. Delicious.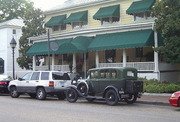 The Smithfield Inn
Somehow, we managed to make room for "Heather's Chocolate Passion" for dessert...a cheese cake with white chocolate over an amaretto brownie, topped by Hershey's Symphony bar pieces. Yes, I finished it all.

After dinner, we walked around the charming, historic town (click here for more on the charming town of Smithfield) sat on the veranda in front, relaxed in the comfy rockers, and watched the world go by.

After a sound night's sleep, we awoke to a fresh coffee tray outside our room, and went down for a hearty breakfast. You can choose from the Traditional Country Breakfast (eggs, maple sausage, Smithfield ham, grits and toast), Granola with fruit and yogurt, cinnamon French toast, or their famous Smithfield Ham rolls.

Want seconds? Just ask. Breakfast is served from 8:30 am until 10 am.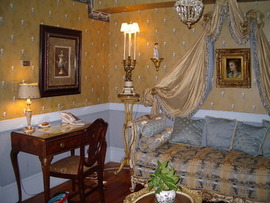 A luxurious day bed in the Annie Mae Sykes Room
Lavishly furnished with antiques, this best of romantic inns dates back to 1752. George Washington slept here! The inn has five suites, all with sitting rooms and private baths, plus a garden house, with three more rooms. The beautifully landscaped garden is available for dining during summer (they had live music playing when we were there), and often hosts wedding parties and luncheons.

During your visit, make sure you tour the downtown area of Smithfield (it's right out the front door!) and its antique stores, art galleries, and boutiques.
Romantic inns don't get better than this!

Room rates (including the full breakafast) are $135 Sunday-Thursday, and $155 Friday-Saturday. Corporates are a bit lower.They also offer AAA, Military, and Senior discounts.  (Looking for more military discounts? Click here.)

Contact: Smithfield Inn Bed & Breakfast/ Restaurant & Tavern112 Main Street, Smithfield - 757-357-1752 - www.smithfieldinn.com


---

Don't miss more romantic inns and these nearby attractions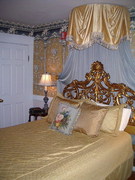 The Annie Mae Sykes Room
Smithfield is just down the pike and over the James River from Jamestown, Colonial Williamsburg, and the James River Plantations. While the plantations-- like Shirley and Berkeley-- are wonderful to visit on a day trip, there are also three plantations where you can actually spend the night! Click here to learn about James River bed and breakfast plantation inns.
So after your stay at this most romantic inns, take a 25 minute drive east on Route 10 until you get to the little town of Surry. Follow the signs for the free Jamestown-Scotland Ferry (which is a fun excursion in and of itself), and you'll be able to take a free ferry ride across the James, giving you an unparalleled view of the recreated colonial ships at Jamestown Settlement and the old church at Historic Jamestowne as you cross.
You'll also be on your way to Highway 5, which you can use for a tour of the James River Plantations. Or, you can head for the many attractions near Williamsburg, including Colonial Williamsburg, or press on northeast to spend the day in the idyllic village of Yorktown.
Virginia Beach Family Fun