Paramount Kings Dominion 2018 Season Pass Deals
Paramount Kings Dominion offers three Season Passes which can be fantastic deals if you want to go again and again. Here are the passes and their perks (and the savings you'll get if you're renewing a pass from last year). 
(Look below for a YouTube video of the park's newest coaster Twisted Timbers.)
(If you want rock-bottom single-day ticket prices-- look below.)
Silver Pass

This pass is valid for admission to the park during the entire season through 9/7 (note-- it does not include free parking or access to Halloween Haunt or Winter Fest).
$99, Adults (ages 3+, 48" or taller) - or 5 payments of $15.75, plus down payment of $26.25. Renewals pay the same $99.


Gold Pass
This pass is valid for admission to the park during the entire season, plus free parking, early admission (10 minutes early), friends discounts, and admission to Halloween Haunt.
They have two options:
Individual season pass: $120, Adults - or 5 payments of $18.75 each, plus a down payment of $26.25. The pass pays for itself in two visits. Renewals pay $99.


Platinum Pass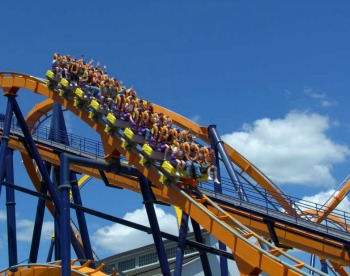 $216, Adults (ages 3+, 48" or taller) - 5 payments of $34 each, plus down payment of $46 (those renewing their passes pay $207)

$186 Juniors and Seniors (ages 3 and up plus UNDER 48" tall or age 62+) - 5 payments of $29 each, plus down payment of $41 (no discount for those renewing passes)

Perks:
FREE PARKING in at ALL CEDAR FAIR PARKS
Unlimited admission to all Cedar Fair Parks during the current season: Knott's Berry Farm and Knott's Soak City Water Parks, Kings Island, Cedar Point, Cedar Point Soak City, Geauga Lake's Wildwater Kingdom, Dorney Park, Valleyfair, Worlds of Fun, Oceans of Fun, Michigan's Adventure, Carowinds, Canada's Wonderland, Gilroy Gardens and California's Great America (Star Trek: The Experience and Castaway Bay Indoor Waterpark not included.)
Designated Season Pass Parking Area at Kings Dominion

First in Line Ride Access
Early Entry into Water Works
Bring-A-Friend Discounts (you can buy up to 6 tickets for as low as $29.99 each, plus they may offer even deeper discounts on select days during the season).
For more details on all the Season Passes, click here.
---

Looking for season pass discounts?
Paramount Kings Dominion rarely offers season pass discounts, but if they do, they don't appear until closer to the season opening (the end of March). I'll post them here as soon as I find them, so to make sure you're in the know, subscribe to my Virginia Beach Blog.

---



Paramount Kings Dominion Single-Day




Ticket Discounts
If you don't want to spring for a season ticket, or if you have visitors who want to come with you for the day, I have discount ticket secrets and deals which can save you money.
For the latest discounts and promo codes, go to my Kings Dominion Single-Day Discount Tickets page.
And if you're looking for Halloween Haunt info, hours, and ticket deals, go to my Halloween Haunt page.
---



Special Events and Operating Hours
Not sure when Paramount Kings Dominion will be open or how late? The operating schedule can really vary widely by date (particularly during the spring and fall), so be sure to check my KD Operating Hours page before you go. 
And to find out about upcoming events like the Easter Eggstravaganza, Joyfest, Kingsfest, and Military Days, go to my KD Special Events page.
As promised, here's a YouTube video of "Twisted Timbers." (Click, wait for a sec, then click again.)
Looking for more info and discounts on nearby attractions? Try my pages on these sites:
Or, click on my Site Index on the navigation bar on your left.
Virginia Beach Family Fun

›

Kings Dominion
› Paramount Kings Dominion