Kings Dominion Events
What are the Kings Dominion events each month? When does Soak City, the park's no-extra-charge water park open? When does Halloween Haunt begin?
There's always something going on...and some of these events can even get you discount tickets. 
Look below for info on Kings Fest June 22-24 and more special event dates.
Remember, the park opens for the summer season on March 25. Soak City opens on May 27 for the summer season.
Note that ride availability will depend on what the temperature gets up to, but pass members can get the first scoop on what the park is offering this year from noon to 6 pm.
March 25 - Opening Day
---

Special Kings Dominion Events
Here are special Kings Dominion events by month. And look below for links to the Kings Dominion Hours & Operating schedule as well as discount ticket info.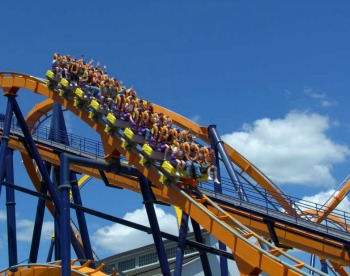 • Passholder Preview Night: March 24, 5 pm to 9 pm
• Opening Day: March 25

• Character Birthday Breakfasts with Snoopy: Select Sundays once a month, May-Oct. 
Celebrate a birthday with a special Character Breakfast with Snoopy and his friends from 10:30 am to Noon on these select dates. Tickets range from $10 and $15 for kids and adults respectively (not including parktickets). Besides the priceless photo ops, you'll get an all you can eat breakfast including scrambled eggs, sausage with sausage gravy, bacon, biscuits, French toast, fruit, and more.
• Easter Eggstravaganza - To be announced (@April 14-16), 11 am to 5 pm - Join the park's annual Easter Eggstravaganza with Easter eggs, a scavenger hunt and petting zoo, photo ops with the Easter Bunny, and visits with Snoopy, the "Easter Beagle."

• Spring Break - April 10-14
• Autism Awareness Day - April 9- Enjoy a meet and greet with the Autism Society from 10 am to 3 pm under the Eiffel Tower. They will also offer ear plugs a Kid Traker wristband, and gluten free meal options. 

• "Taste of Virginia" - Weekends, May 6-21 - Sample foods from regions in Virginia, from meatloaf and apple pie, to Chesapeake seafood and Brunswick Stew. Note: You must be age 21 or older to redeem wine or beer tokens.
You have two options:
- Add "Taste Tokens" to your existing park admission ticket: Food "tastings" are sample size  and food tastings range from 2-4 tokens each, while wine/beer tastings are 4 tokens each. Tokens average $1.60 each and can be purchased in groups of 3, 6, 9, 11, and 15.
- "Taste of Virginia" Admission + Tokens Combo: For $56.40 per person, you'll get a single day admission plus 9 tokens. 
• Soak City Opens - May 27 - Get a water park experience at no extra charge! 

• Military Days - May 27-29 and July 3-4 - The park honors the military with special events and free park admission to all active, inactive or retired US Service men and women with valid military I.D.
• Deaf and Hard of Hearing Day - June 3 - Enjoy special events, educational exhibits, and entertainment, free with admission. 
• Run and Ride - June 3-4 - Enjoy 10K, 5K, and 1-mile races with the Run and Ride Race Series. You'll also enjoy a free ticket to the park with your entrance fee. 

• Girl Scout Day - June 10 - Enjoy special events, discount pricing, bridging activities, and Girl Scout patches.
• Multiples Day - June 17 - Celebrate twins and other multiples at this special day.
• Kingsfest - June 22-24 - Free with admission, you'll have access to concerts by Christian artists including Toby Mac, Skillet, and Chris Tomlin. 
• Star Spangled Extravaganza - July 3-4 - A special Independence Day celebration with fireworks and free admission for all active, inactive or retired US Service men and women with valid military I.D.
• Joyfest - July 15 - Free with admission, you'll have access to concerts by Christian artists including Kirk Franklin, Tamela Mann, Tasha Cobbs, and Dee-1. 
• Kidsfest - To be announced - Perfect for the kids, experience free hands-on kids activities and entertainment. 

• BBQ Brew and Fest - To be announced - Perfect for beer/BBQ lovers with ribs, craft brews, live music, and more. 
• Oktoberfest - late September - Steins and brats. Need I say more?
• Halloween Haunt (Weekends, End of Sept-Oct 31) - For all you need to know, go to my dedicated Halloween Haunt page. 

---

Kings Dominion Events, Discount Tickets, Hours/Operating Schedule


Before you plan your visit, be sure to check out these pages, or go to the official Kings Dominion site:
Virginia Beach Family Fun

› Kings Dominion Events