Buy an Entertainment Book,
Save Money!
My advice: Only buy an Entertainment Book if you want to save potentially hundreds of dollars on food, travel, entertainment, and even mundane things like oil changes, clothes, and more.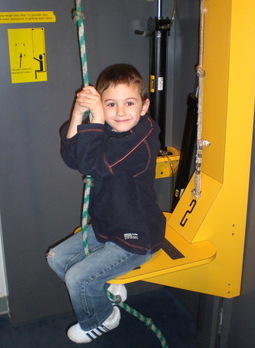 Childrens Museum of Virginia: Just one of the places you can usually get coupons for in your Entertainment Book.
But then, who wouldn't?

These coupon books, sold both online and through sales by schools, athletic teams, and charity fundraisers, come in several shapes and sizes. Most cost $25-$35, but have the potential to save you a huge chunk of change if used correctly.
On this page, I'm going to show you... 
the best time of year to buy your book
how to get updated on new discounts
and why--depending on where you live--a local book may be a better deal for you
---

The Entertainment Book
The best known book--sold online-- is called, you guessed it, the Entertainment Book. While these books are occasionally sold to schools and other fundraisers, most of them are purchased online at www.entertainmentbook.com.

According to their website, you can save more than $13,000 per book. (of course, that's if you used every single coupon.) Coupons for museums and other attractions or restaurants often tend to be 50% off or two-for-one deals. Retail coupons are often for a specific amount-- say, $10 off a purchase of $50 or more at Aeropostale.

You can also get discounts on movie tickets, pet stores, and even travel. I've used promo codes in the book for travel discounts of $10 per ticket on American Airlines, plus getting discounts on rental cars.

Depending on the size of the city book you buy, these books may be as much as 2 inches thick with coupons! Plus, you can get online coupons from their website, some of which are continually added through the year.

We used our book to save $25 off Great Wolf Lodge Williamsburg!
When to Buy Your Book

And the best way dear to buy your book can be complicated, and it depends on how long you want people to use your book and how much you want to pay. The Entertainment Book coupons are generally only good through November of a given year. This is because books are pre-sold the previous year. So the later in the year the you buy your book the cheaper it will be, but the less time you'll have to use the coupons.

Although there deals change from time to time, here's an example of how the prices fluctuate through the year:

Buy your book October through December (for the following year's book)...

... You'll generally pay $35 per book plus shipping (they occasionally have week-long sales for $10 off)


Buy your book mid-to-late January...

... Most years, you'll pay @$22 (35% OFF) per book plus $1 shipping.

You may also see deep discounts (like $10 per book) if you agree to automatically purchase next year's book. Unless you're a die-hard annual buyer, I don't recommend these deals as you can do better if you wait later in the year...besides, I don't like being bound to pay full price for next year's book!

Buy your book in February...

... You'll probably get the book for 40% off, plus $1 (or free) shipping. Be on the lookout for two-day Valentine's Day deals.

 Buy your book mid-late March...

...you may get a book for 50% off and pay absolutely no shipping. You may even find spots sales for as little as $10 for a few days.

 Buy your book in April...

...you'll probably pay $15 per book and free shipping. (Last Tax Day, they offered a two-day deal of $10.40 per book, plus $3 shipping).

 Buy your book in early May...

...you'll pay about $12 and get free shipping.

 Buy your book in late May...

...you'll often be able to buy TWO books for $20 and get free shipping for both.

 Buy your book in early June...

...you'll pay full price for the next year's book, but you'll probably get the current year's book for free!

 Buy your book in late June...

...you may get the current year's book for $9.99 (or less) and free shipping, so you'll definitely pay for the book with one coupon!

Personally, I don't like paying more than I have to. But I tend to use the Entertainment book more during late spring and summer, so I buy my book in March.

How to save the most on your book

For the rock-bottom cheapest deal, buy your Entertainment book in March or later, and split the cost with a friend or family member. Then sit down and start divvying up who gets what coupon. (Obviously, this will only work if you do it with someone you get along with extremely well, or you'll end up fighting over coupons to Maggie Moo's).

To buy a book, just go to www.entertainment.com


---

Live in a Smaller City? Buy Attractionsbook.com
The problem with Entertainment Book is that its books are only geared to larger metropolitan areas. So if you live in a smaller city, you may be better off buying a local book.

For example, in the state of Virginia where I live, you can buy books for three different places-- Richmond, Hampton Roads, in Washington, DC/Northern Virginia. Live in a city or town an hour or more outside of these cities and it just may not be that practical for you to use many of the coupons.

That's okay if you're primarily using your Entertainment book for travel or special occasions, like when you visit museums. But if you want a coupon book full of coupons that you can use every week, you'll be better off buying something like the Attractions Book available through www.attractionsbook.com.

What these smaller books lack in size (they're about half the size of Entertainment Books), they make up for in specificity--that is, coupons for restaurants and businesses near your specific town. They also tend to be cheaper than the larger books, generally $15-$25. However, they do not appear to go on sale much, if at all. I recently checked the price of the Charlottesville book in July, and it was still the full price of $25.

Attractions books only seem to cover parts of North Carolina and Virginia, but they are frequently sold as fundraisers through local schools and organizations. So if you live outside these areas, you might try contacting your local school in September to see if there's a local book you can buy.


---

Looking for More Coupons and Ways to Save?
For more ways to save, try these online deal sites: Groupon.com and LivingSocial.com.

Click here to learn how to save 50% or more through these amazing sites.
Also, if you REALLY want to save lots of money on travel and entertainment, visit my Free or Cheap Things to Do page, our Discount Travel Deals page, and my Cheap Eats page.
Virginia Beach Family Fun