Fabulous Area Thrift Stores We Love for Bargains!
We LOVE bargains, so we LOVE thrift stores! Here are one you may learn to love too...

Our #1 Favorite!
Family Thrift
314 West Mercury Blvd, Hampton, VA
This place is the best favorite bargain spot we've found EVER, ANYWHERE! This place is so great that our California relatives always ask to go there the minute they step foot in town. I never walk out of there without a big bag of clothes. 

What's so great about it? It's packed to the gills with clothes, some of them new, and they mark things down on a regular basis based on how long they've been there.
So I regularly find great kids clothes for 99 cents. Really! 

Plus, it's not unusual to find designer or brand name clothes. My finds have included:
- a gold lame sweater twinset from Talbots for $4!
- a Coldwater Creek sweater for $4
- a Lands End wool sweater for $3
- brand new Dockers boys' pants for $1
- an Aeropostale sweatshirt for $3
- a Coach bag for $3

This whole outfit was bought at thrift store!
...plus tons of baby clothes and dresses for as low as 99 cents each
It's crazy the bargains you can find. Downsides: Parking is limited (the place is always packed) although you can park in the lot just to the left; clothes are not sorted by size, so you really have to dig; there's no bathroom or changing room. 

Don't miss stopping by Ollie's Bargain Outlet which is just across the street and a bit west of Family Thrift!

Our #2 Favorite!
Disabled American Veterans 
4209 West Mercury Boulevard, Hampton, VA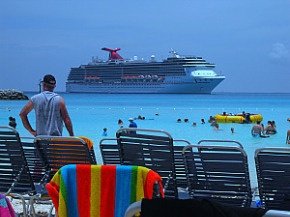 Shop for bargains and you'll have more money for travel!
Not as great for kids clothes bargains as it used to be, but I still like it for adult clothes (bought a cute Tommy Hilfiger jeans miniskirt for $2 the last time I was there!). It's a great place to get cheap paperbacks too.


Here are some other stores where you may find bargains:
Salvation Army ARC 
5524 Virginia Beach Boulevard, Virginia Beach - Tip! On Wednesdays, clothing is half off!

Goodwill 
5565 Virginia Beach Boulevard, Virginia Beach

Goodwill     
3838 Virginia Beach Boulevard, Virginia Beach
Hope House Shop
1800 Monticello Avenue, Norfolk

CHKD Stores (there's one on Mercury Blvd in Hampton, too)3138 Western Branch Boulevard, Chesapeake
Children's Hospital-The King's Daughters
550 First Colonial Rd, Virginia Beach

Salvation Army 
1136 Lynnhaven Parkway, Virginia Beach

Not a thrift store, but definitely full of bargains, is Ollie's Bargain Outlet, which features close-out deals on books, toys, housewares, crafts, food and more. Check out their latest flyer here.
---

Want more ways to save beyond thrift stores?
Want to find more ways to save on food, travel, and more? Check out these links:

Virginia Beach Family Fun