Monticello VA Admission Deals & What to See for Free
Sorry...Thomas Jefferson's house in Monticello VA is not like Colonial Williamsburg, where you can walk around the buildings for free and only need tickets to go inside. At Monticello, you must have tickets to enter the grounds.

Monticello VA has great family-friendly tours guaranteed to keep the attention of the little ones.
But they DO offer off-season discounts, they DO give locals some break on admission, and they do have annual pass for local residents.

And they do have two marvelous sites that you can visit for absolutely FREE! (More on that below).
Admission
Tickets can be purchased at the ticket office or in advance by credit card on their Web site www.monticello.org. General admission is $23 for adults Nov-Feb, and $29 March-October (kids 5-11 are $10 year-round, and kids under 5 are always free) . So if you want to save, visit during the winter.
Admission includes access to the grounds, a guided tour of the house, access to the Visitor's Center (which has some really interesting, interactive displays and a 15 minute video), and the seasonal Gardens and Grounds and "Slavery at Monticello" Tours.
Online Deal: Order your tickets in advance (even just the day before online) and you'll save $2-$3 per ticket.
The "Slavery" tours tell you all about how Jefferson's slaves lived and other aspects of early African-American life at Monticello.
An added benefit of admission: You'll also get a pass good for 50% off admission to Thomas Jefferson's Poplar Forest retreat.
Guided tours of the Monticello house are conducted continuously throughout each day (about every 15-20 minutes). Tours cover the rooms on the main floor and last about 30 minutes.
Local Residents' Deal
Reduced rates are available to residents of Charlottesville, Albemarle County, Fluvanna County, and UVA students. To get the rate, you have to bring in proof of residence. 
Local residents rate: Adults: $20 or free when accompanying a non-resident adult guest paying full price.
Independence Pass
For unlimited house tours and access to the gardens and grounds of Monticello VA, you can purchase a year's pass for $50 per adult. Benefits include general admission to the annual Heritage Harvest Festival, and a 10% discount in The Shop at Monticello.
Family Pass
A family with up to four immediate family members can get unlimited house tours and access to the gardens and grounds for $110. Benefits include general admission to the annual Heritage Harvest Festival, and a 10% discount in The Shop at Monticello.
Military free! 
Military members and up to five family members can get in absolutely free May 30 to the first week in September, thanks to the National Endowment for the Arts Blue Star Initiative. This program offers military members and their families free admission 900 history, art, and science museums around the world.
Besides Monticello VA, participating museums in Virginia include Colonial Williamsburg, Thomas Jefferson's Poplar Forest, Richmond's Museum of the Confederacy, and Charlottesville's Virginia Discovery Museum. 
Free or Reduced Times to Visit
April 13 - Jeffersons' Birthday Celebration - Enjoy the ceremony on the lawn outside the mansion for free. You won't be able to get in the house for free, but you'll be able to enjoy the grounds.

May 18-20 - Free Admission for 2018 UVA Graduates
July 4 - Independence Day and Naturalization Ceremony - Enjoy remarks by a featured speaker, free walk-through tours of the first floor of the mansion, music, and more.
Sept. 26 - Home Educator's Day - Includes special activities with admission. 
---

Family-friendly tours and
behind the scenes tours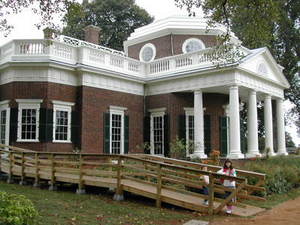 Tailored for children ages 6-11, these tours include hands-on opportunities and stories of more interest to kids. They are a bit shorter than regular tours (only 40 minutes in length). I would whole-heartedly recommend that you stick with this one for little ones under 7. 

On our Monticello VA tour, the docent started by letting kids touch and hold items from a basket of things related to Jefferson, like a fake bear fur (to represent the types of things famous explorers Lewis and Clark brought back to Jefferson when they returned from their explorations out west (Jefferson was the one who sent them on their expedition).
The docent also put more emphasis on things in the house which would appeal to kids (like the secret closet in the breakfast parlor with a wine bottle "elevator" which servants could use to send up bottles of wine from the cellar below).
Believe me: It'll keep their attention, and there's no extra charge for the Childrens tour. The only drawback? They're only offered select times of the year.
You have to register for this tour at the Ticket Office. The tour lasts about 40 minutes, and begins on Monticello's East Front at 11, 1 pm and 2 pm daily during these times:
The first three weeks or so of April (check website for exact dates)
Summer- Early June through early September (excluding July 4) 
October Weekends & Columbus Day
December 26-30
Behind the Scenes Tours 
See recently opened and never-before-seen rooms, including second and third floor bedrooms, the Dome Room, and an interactive exhibit "Crossroads" under the house in this 1.5 hour tour. Offered 10:30 am and 2:30 pm daily. Tickets are $49 per person during the winter and $60 March-Nov. and must be purchased in advance.
More specialty tours
They also offer a variety of other specialty tours, including a Monticello VA Sunset Pass, and a Hemings Family Tour. For details and prices, go to www.monticello.org.
---


Garden Tours at Monticello VA
They still grow things the way Jefferson grew them.
Gardens and Grounds Tours 
Garden lovers will enjoy these guided tours, free with admission. Monticello spends millions a year on their decorative gardens, keeping the vegetable gardens, grove, and orchards as close to as in Jefferson's time as possible. Tours last 45 minutes and begin on the West Lawn at hourly daily, spring through fall.
Acoustiguide Grounds Tour 
Dislike group tours but still want to learn about the grounds? For $5 you can rent an Acoustiguide (a recorded tour you listen to with headphones) with commentary narrated by Sissy Spacek, so you can learn while enjoying the grounds at your own speed. Available at the Monticello VA Ticket Office and Museum Shop. 
---


Don't miss these free sights at Monticello VA!
If you want some of the Monticello VA experience, but you want to save money, take advantage of the marvelous new Visitor's Center where you purchase tickets.
This beautiful complex features a free 13-minute film on Jefferson and his house, a wonderful gift shop, gourmet cafe, a garden nursery where you can buy plants like those Jefferson planted.
Plus, they have the Smith Center-- a free mini-museum with three rooms full of Jefferson artifacts and memorabilia, and lots of high-tech, interactive exhibits guaranteed to keep even kids occupied and learning. The Center is well-worth a visit on its own...even if you don't pay to visit the house itself.
Don't miss it!
When you're done at Monticello VA, be sure to take time to walk the lovely, shaded Saunders-Monticello Trail, a 3-mile round-trip walk at the base of the mountain. It winds down the hill above historic Michie Tavern and ends at a lovely lake. 
Virginia Beach Family Fun

›

Monticello
› Monticello VA