Luray Cavern Virginia - Admission, Hours, Accomodations, and Discount Tickets
Look below for four ways to get discount tickets at Luray Cavern Virginia.
Want to experience a place like nowhere on earth? Luray Caverns is the place! I've got a full review, ways to get discount tickets, admission and operating hour information, details on the Caverns other attractions (including their car museum and garden maze), a link to a video of their stalacpipe organ (yes, it plays real music!) in action, and more.
I also have up-to-date info on new attractions at the Caverns, including their Garden Maze, Ropes Course, Gem Sluice, and Vineyard.

For a full review of what you'll see at the Cavern, the video, and other attractions included in admission, go to my Luray Cavern Review page (see link below).

---

Admission and Hours
The Cavern is open every day of the year. Guided tours depart about every twenty minutes and the tour takes about one hour. Tours begin daily at 9 am and run every 10-20 minutes. Each tour takes about 1 hour. Last tour departs at:

6 p.m., April 1-mid-June 
7 p.m., mid-June-Labor Day
6 p.m., day after Labor Day-Oct. 31 
4 p.m., Nov. 1-March 31 (5 pm weekends)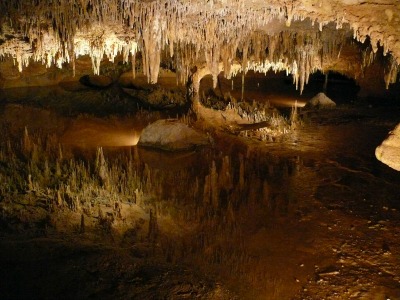 Luray Caverns has amazing stalagmite formations.
Caverns Admission (includes the tour of Luray Caverns Virginia, the adjacent Car and Carriage Caravan Museum, and the Luray Valley Museum):

$28 Adults
$15 Children (6-12 years)
Group Rates (Min. 20 or more paying persons): Call the Caverns at (540) 743-6551 at least 14 days ahead of time to get the latest rate, but the last I checked it was $18.50 adults, $10.50 students, and $8.50 for school sponsored groups.
Note that rates are subject to change. For $5 more per person, you can add an audio tour, which features an enhanced tour narration for adults. For kids, they have an audio tour entitled "Shenandoah Shane's Scavenger Hunt." 
Senior Discounts?
Unfortunately, the caverns does not offer senior discounts.
Is it worth the money?
Depends on what you're looking for, as you can see in my full review of the Caverns on my Luray Caverns Review page.
Garden Maze & Ropes Course

Outside, they have an excellent Garden Maze. We did the maze once with our extended family and the cousins had a fabulous time racing each other to solve the maze. It's not cheap, but a great way to run off steam for $9 per adult and $7 for kids ages 6-12. They offer a discount for groups of 20 or more.
They recently added a Rope Adventure Park which is $11 per adults and $7 for those 48" or less. I haven't tried it so I don't know whether it is worth the cost.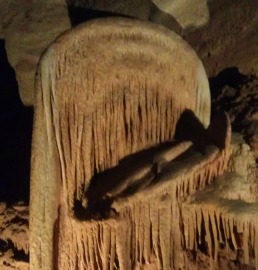 This shield formation at Virginia's Grand Caverns is similar to what you'll see at Luray.
New Luray Attractions

The Luray Cavern Virginia experience has really expanded since we first started going there 9 years ago. They now also offer a Gem Sluice, which is billed as a "fully operational, filled with fun mining station" where kids and adults can practice panning for gems. Gem bags can be purchased for $8, $12, and $30 depending on the size of the bag. 
Also new is Toy Town Junction, an antique toy train set which is included in your admission to the Caverns. 
Finally, they offer two places to eat: The Stalactite Cafe, featuring fast food, next to Toy Town Junction, and the restaurant-style Heartpine Cafe near the Luray Valley Museum. 
---



Luray Cavern Virginia Discount Tickets & Coupons...and Where to Stay



As with just about everything, ticket prices at Luray Caverns Virginia have gone up (about $9 per ticket the last few years). So take advantage of these possible discounts (they're subject to change, so check early!)
Keep in mind that there is nowhere to enter the deals when ordering online, so you'll have to use them to purchase tickets in person.
AAA membership discount - $2 or more off each adult admission (up to 6 adults) with your membership card
Giant or Martin's Bonus card - one 50% reduction off second regularly-priced ticket (up to 6 adults per card, 3 at full price and 3 at 50% off)
Participating companies and military bases (check Human Relations departments) - $5.00 off adult tickets
At this time, I've found no active coupon codes available, so the above deals are your best bet. 
Where to Stay
There are two motels nearby: Luray Cavern Motel West and Luray Cavern Motel East. Both have swimming pools and free wifi. You can also take advantage of the upscale Caverns Country Club Resort which features golf. 
But for something really fun and different, I recommend Yogi Bear's Jellystone Park Camp Resort. This multi-faceted family camp is the kind of place families come back to year after year. They offer campgrounds and cabins, as well as multiple pools, a water zone and water slide, jumping pillows, miniature golf, laser tag, and a variety of daily activities at no extra charge. And they're just 5 miles from Luray Cavern Virginia! Check them out at http://www.campluray.com/
Another option, is to rent an adorable, rustic cabin along the beautiful Blue Ridge Parkway. Cabin Capital is an excellent site which helps you find a cabin just right for you in the Luray-Page County area. Browse the photos and details to choose from log cabins to luxury cabins, including details on the number of beds, whether they have mountain views, proximity to rivers or towns,  prices, and more. Check out the site here.
---

Upcoming Luray Cavern Virginia Events
The Luray Cavern Virginia often features special events throughout the year, which may include the following: 
Luray Festival of Spring - early May
Fireworks & Fun at Luray - July 4
Luray Internation Triathalon - mid-August
Page Valley Cycling Road Race - early August
Civil War Weekend - first weekend in Sept.
Civil War Reenactments of Wapping Heights - first weekend in Sept.

Battle of Luray 1864 Remembrance - first weekend in Sept.
Virginia Beach Family Fun

› Luray Cavern Virginia