Fathers Day Freebies
If you're looking for Fathers Day Freebies for 2018, look no further. 
This year, the trend seems to be toward fewer outright free meals and more "buy a big gift card and get a smaller one free" deals. But there are still quite a number of deals which will make it worthwhile to take Dad out for a meal on that special day.
I've also included a few places which are offering free or reduced admission deals in case you want to extend your special day for Dad beyond lunch.

Fathers Day freebies - food!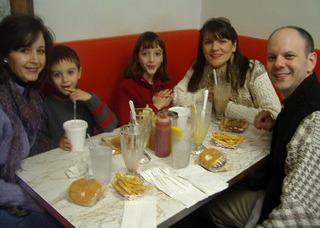 As I mentioned, there aren't many walk-in-and-get-free-meal deals. Instead, there are lots of restaurants which are offering gift card deals. Here are just a few examples:

Applebee's - get a $10 bonus gift card when you purchase a $50 gift card when you purchase cards through July 1. Similar deal available at these eateries: BJ's, Benihana's, Black Angus, Bonefish Grill, Carrabba's, Chili's, Kona Grill, Landry's, Olive Garden, PF Chang's and Outback.

Mimi's - Visit on Father's Day and dads can get a coupon good for a free BOGO meal which they can use June 18-July 7.
Pilot Flying J - Free cup of coffee for dads June 15-17 when you get the coupon from their app.

Spaghetti Warehouse - On Father's Day, dads eat free (choose from lasagne and spaghetti; limit two free meals per table).
TCBY - free fro-yo for dads on Father's Day.

TGI Friday's - et a $10 bonus gift card when you purchase a $50 gift card when you purchase cards by June 30.
Wienerschnitzel - Free Old Fashioned Sundae on Father's Day.
---

Entertainment Freebies
There are a few places in Virginia which are offering Fathers Day freebies. Here's what I've found so far.
Adventure Park at Virginia Aquarium - free hat for dads (while supplies last) June 16-17.

Medieval Times - Free admission for dad when you purchase another adult admission. Offer valid June 4-17 when you use code DAD18.

Nauticus - Buy a child admission, get a free admission for Dad on Father's Day.

Ocean Breeze Waterpark - Buy a child admission, get a free admission for Dad on Father's Day.
Thomas Jefferson's Poplar Forest - Dads visit free on Father's Day with a paid admission. 
NEW!
AMF Bowling - Dad and up to four guests can get two hours of unlimited bowling for $10 each when you show the coupon. Good June 17 only.
Free movie on Prince George's Street, Williamsburg - On June 17, see the free family movie "Deep" in the courtyard at 420 Prince George St in front of the Blue Talon Bistro. The movie will start around 8-8:15 pm, so bring your chair or blanket.
Mariner's Museum $1 admission - It's available all summer long, but this $1 admission deal makes the museum a great place to take Dad on June 17. Bring a picnic lunch and take him on a hike around Lake Maury while you're there.
Not a Fathers Day freebie, but a special event:
Mount Vernon Father's Day Event - On Father's Day weekend, you won't get free admission, but you will get to meet our nation's father-- George Washington (okay, a really good re-enactor) who will meet and greet visitors and offer programs at 11 am, 1 pm, and 3 pm. They will also offer a special event at their Gristmill on whiskey distilling, as well as lots of other demonstrators and costumed re-enactors. 
---

Looking for more freebies?
I don't know about you, but I like to save money, whether it's on food, travel, or entertainment. If you want more ways to get free stuff, or save money, check out my Navigation bar (left), or take a look at these pages:
Virginia Beach Family Fun

›

Get Freebies
› Fathers Day Freebies