Berkeley Plantation
Home of Two Presidents
& America's 1st Thanksgiving
I first visited Berkeley Plantation years ago when I was a young bride and visiting Virginia from New York. So I was looking forward to seeing if things had changed much over the years at this famous James River Planation.
It was a kinda chilly, but still pretty early spring day, but I took photos anyway and was anxious to show you some things I'd forgotten about the home, like the cannon ball imbedded in the side of one of the dependencies, and the lush gardens.
Too bad I forgot to put a memory card in my camera!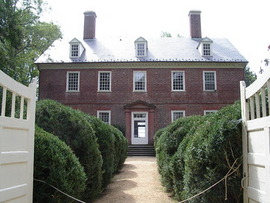 Berkeley Plantation - This is still how it looks, and I imagine, how it looked back in the 1700's too!
You can imagine my shock and irritation with myself when I got home and couldn't figure out (at first) why there were no photos on the camers. ('Kay, I may be feeling kind of stupid right now.)
But I do have some fascinating historical details about the house-- plus tips for getting discount tickets and a fabulous place to eat lunch-- which I'll share. And photos or not, I can still share why Berkeley is one place you really need to visit.
---
Home to History
Berkeley Plantation is located about 20 miles upstream from Jamestown, the first permanent colony in the New World.  Built in 1726, this is believed to be the first three-story brick building in Virginia, and it is built in the Georgian style, with an emphasis on symmetry, as two outbuildings, including a kitchen, flank each side of the main house.
The house boasts a number of firsts:
Location of the first official Thanksgiving in 1619
The 1726 mansion was the birthplace of Benjamin Harrison V, a signer of the Declaration of Independence and a governor of Virginia
Birthplace of William Henry Harrison, the 9th president of the US
Ancestral home of Benjamin Harrison, the 23rd president of the US
Occupied by George McClellan's Union army during the Civil War (Lincoln visited the house twice)
The song "Taps" was written here during the Civil War
As if that's not enough, this is not a house without its fair share of drama. 

One jaw-dropping family tragedy took place when Benjamin Harrison was just 19. His father and two of his sisters were in an upstairs bedroom when a storm hit. As the father went to close the window, a freak lightning bolt went through the window and killed all three.
Shocked and bereft, Harrison's mom was so devastated she refused to eat for a month, leading to her untimely death and leaving Benjamin the guardian for six brothers and sisters at age 19. 
The house fell into disrepair after the Civil War, and was thankfully purchased and restored in the early 1900's by Scotsman James Jamieson, who had been a drummer boy with McClellan's forces.
Today, the house is open for tours and weddings, and its gardens have been used for a number of movies and TV series, including AMC's "Turn: Washington's Spies" TV show.
---

What to look for...
The parlor at Berkeley Plantation - be sure to look for the historic graffiti! Source: Wikipedia Commons
The 45-minute guided tour of Berkeley Plantation starts out in the gift shop, moves on to discuss the history behind the Harrison and Carter families and the building of the house, then moves inside to tour the main floor (the upstairs is off-limits, making this part of the tour open to those with disabilities).
Look for: 
The cannon ball in the 2nd floor wall of the left dependency (how it got there will surprise you!)
unexpected 18th century graffiti showcased in the main parlor
a staircase that leads to nowhere (or does it?)
why the present owner's ancestor refused to set foot in the house when she first saw it on her honeymoon.
After the tour, you'll be invited to make your way to the basement of mansion (steep steps, so be careful!) to watch a movie about the mansion's history and to walk around some interesting historic artifacts and stories.

Admission, Hours and local tips
Berkeley Plantation is open everyday except Thanksgiving and Christmas from 9:30 am to 4:30 pm (the last tour starts at 4:30 and the gardens stay open until 5:30). 
In January/February the hours are 10:30 am to 3:30 pm, with the grounds open until 4:30 pm.
Admission: $12 for adults, $11 for seniors, $7 for kids (ages 6-16 - under 6 are free)
Military: $11 for adults and $6.50 for kids
My most recent visit, I bought a Groupon which gave me two Berkeley Plantation tickets for the price of one, a deal I've seen the last few years from time to time on Groupon. 
The Berkeley Plantation ticket includes a guided tour of the house by a costumed interpreter (our guy was a hoot!), a movie, historical exhibits and the grounds. 
---

What to see and do near Berkeley Plantation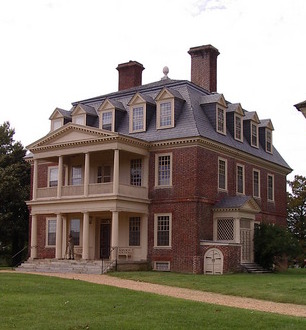 Shirley Plantation
You can visit Berkeley Plantation by itself, but some people choose to visit two or more James River Plantations in a day, including nearby Shirley Plantation. Personally, I think that doing more than two plantations in a day is too much, but once option is to visit one in the morning an one in the afternoon after lunch since the two estates are only a few miles apart. 
Where to eat, however, is a bit of a challenge, since the nearest closest approximation to a town is a good 25-30 minute drive. So here are my recommendations:
Option #1: Bring a picnic - the grounds at either Berkeley or Shirley offer lovely views of the James River, so there are plenty of places to spread out a blanket and enjoy nature while you eat your lunch.
Option #2: Have lunch at Upper Shirley Vineyards - This is where we ate the last time we visited, and it was a memorable lunch. Located in a former polo club, the airy white clubhouse is a winery, restaurant, and wedding venue. They offer a variety of goumet salads and sandwiches, as well as wines, which you can enjoy while gazing off at Shirley Plantation in the distance.
I'm STILL thinking of the meal I had there in April, it was that good! It was grilled cheese with Smithfield ham and fig jam-- so yummy I keep reminding myself that I need to buy some fig jam and try it myself-- plus an excellent tomato soup and salad.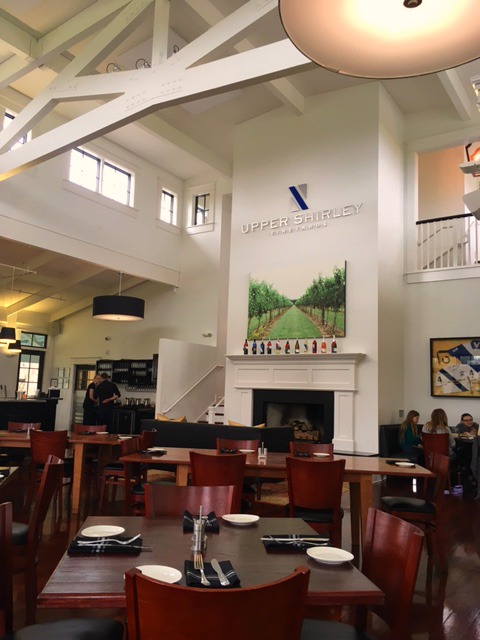 The dining room at Upper Shirley Vineyards.
They also offer a Route 5 burger (my meat-loving hubby approved of it!), soft shell crabs, shrimp and grits, and share plates like fried green tomatoes, fried virginia oysters, and truffle frites.
Prices range from $6-$16 for salads, $15-$16 for sandwiches, and $16-$22 for entrees.
Lunch is served 11 am to 3 pm, with small plates and desserts from 3-4:30 pm. Wine tastings are available 11 am to 5 pm. They are closed Tuesdays. They also offer live music from 1 pm to 4 pm Saturdays and Sundays. 
You can find Upper Shirley Vineyards at 600 Shirley Plantation Road, Charles City, VA 23030 (just off of Route 5, about 20 minutes from the outskirts of Richmond). Here is a link to their website. 
Virginia Beach Family Fun

›

James River Plantations

› Berkeley Plantation