5 Best Baby Travel Hacks
As a new parent you have enough to deal with as it is, so you need baby travel hacks to make your trip smooth sailing.
There's nothing worse than flying with a screaming child with nowhere to go. You're not happy. Your fellow travelers aren't happy. No one's having fun. 
But there are some things you can do to make your trip easier.
I've traveled to 44 different countries, and many of those trips were when my kids were small. Along the way, I learned some great tips which I want to share with you. Some of them are just for infants, while others are hacks which you'll want to keep using well through your kids toddler and elementary school years. 
---

Baby Travel Hacks--
Hack #1: Flying with a car seat

One of my favorite baby travel hacks involves what to do with your car seat on an airplane. On most airlines children can fly for free up to age 2 as long as they sit on their parent's lap during takeoff and landing. Although I know there are some parents who actually purchase a seat for their infant or toddler so they can buckle in a car seat, I've never been that rich! In fact, there was only one time I ever had a travel agent at the gate give me a hard time for not having purchased a separate seat so I could put my child in a car seat on the plane.

So the question remains: what to do with the car seat while you're on the plane? Although you can certainly just drop it off at the ticket counter, you're taking a real chance that it will either get damaged en route, or get lost at the other end when you need to safely strap baby in the car to get to your final destination.
So here's one of my favorite baby travel hacks for traveling with a car seat. Get a heavy duty black trash bag. Tape one of your business cards or a card with your name, phone number and email to the outside of the bag about a third of the way up from the bottom.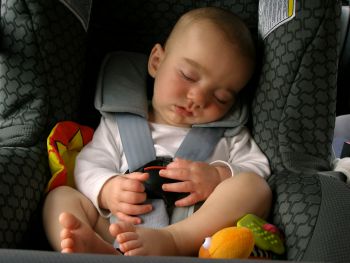 https://www.flickr.com/photos/treehouse1977/3775151069
Don't use scotch tape. I recommend you use several pieces of heavy packing tape so that the card is not only completely attached to the bag but protected from any water or rain (I once had my bags soaked from a sudden downpour on the tarmac in Honolulu). Now make a second version of the bag for the return trip. Fold both bags back up and put them in the outside pocket of your suitcase or carry-on.

Next, tape a business card or identification card to the bottom of your car seat using the same heavy-duty packing tape. This gives you a second degree of identification should your car seat go missing.
When you get to the airport simply remove the car seat from your car, put it in the heavy duty trash bag and then tie a knot in the top of the bag or zip tie it shut. Ask the baggage agent to put a baggage tag on it before putting it on the luggage belt.
Now your car seat is not only protected from the elements and from having straps or pieces of the cover ripped off by overenthusiastic baggage handlers, but it's more likely to be there for you when you get off the plane. When you see it come down the baggage conveyor, simply rip the bag open and you're ready to use your car seat. Don't forget to do the same process on your return trip.
Using this baby travel hack, in all our years of traveling with infants on many trips, our car seat was always ready for us at the other end.
---

Hack #2: Bring an emergency bottle
If you breast-feed, you can skip the section. But if you bottle feed your infant, these baby travel hacks tips might well keep your flight from turning into a nightmare.

The first time we flew with my daughter she was only a few months old, and a preemie at that. She needed a bottle every couple of hours. I had prepared three bottles of formula the night before our 4 AM drive to the airport and had them ready in the fridge in a cooler with an ice pack.

Only one problem: we were halfway to the airport when I realized that I had left the ice cooler at home. Bye-bye bottles. There was no time to drive home and still make our flight. Would our baby starve on the flight from Michigan to Florida?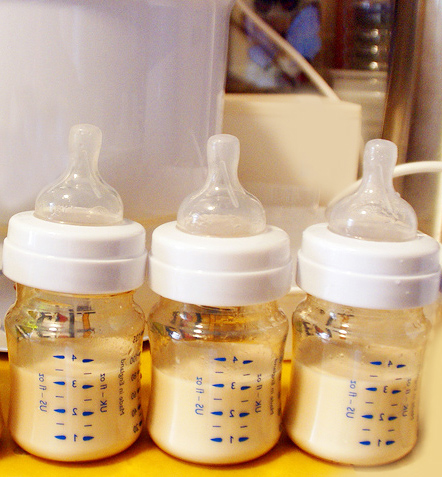 Nope. Luckily, I had brought what I dubbed "emergency bottles," bottles with a couple ounces of dry formula in each. All they needed was water. 
But dry formula doesn't mix that well without hot water, so what to do? When we got to the airport, we simply went to a coffee kiosk and asked for two cup cups of hot water, then poured the water in the bottles. Since the bottles were now too hot to handle for awhile, we also asked for large cups of crushed ice, then put the bottles on ice to cool down. Problem solved.
After that, I always made sure to bring enough "emergency bottles" on flights to cover the time from home to our destination (plus an extra just in case of a canceled flight or delay).
---

Hack #3: Prepare Little Ears for Landings
Before I tell you baby travel hack #3, I must admit that I am not a doctor. But I did get this advice from a pediatrician and I swear by its effectiveness.
Most adults know how to clear their ears during airplane descents to help relieve the pressure in the ear canal. But babies can't do that, and their narrower eustachian tubes mean that they often spend most of the descent crying in pain. 
While you can often help alleviate this situation with toddlers and preschoolers by giving them gum or hard candy to suck on, your only recourse with infants is to offer them a bottle, hoping that the process of swallowing will equalize the pressure. But a baby in distress will often refuse a bottle or pacifier, and if the baby has an ear infection or any lingering fluid in the ear, you-- and your fellow travelers-- may be in for a rough 30-40 minutes.
So here's one of my favorite baby travel hacks which my pediatrician told me: About 30 minutes before take off, give your infant a dose of baby acetaminophen or ibuprofen. On a flight of four hours or less, this helps ensure that baby feels no pain on take offs or landings. It's so effective that I still did this with our kids up through age two or three.
---

Hack #4: Diaper Do's and Don'ts
https://www.flickr.com/photos/sellerspatton/879097718
The only thing as dire as running out of formula on a trip would be running out of diapers-- or having to pay an arm and a leg for them if you run out of them at some exotic location. One of the most overlooked baby travel hacks involves estimating your baby's, shall we say, "schedule," as well as a military campaign and planning accordingly. It's not as hard as you think.
Don't just grab a bag of diapers and assume you'll have enough. For a few days or weeks before your trip, estimate how many diapers your baby uses in a day. Figure out how many diapers you're likely to use during your trip to the airport, the flight itself, any layover time, and travel from the airport to your destination...then add 2-3 diapers just in case of flight delays. Pack those diapers in your diaper bag or carry on.
Now plan for the rest of the trip. Will you be going to visit relatives? Are you trying to travel light? If so, consider asking your relatives to buy diapers on the other end, which will free up a lot of space in your luggage. 
Are you traveling to a place where it won't be easy to buy diapers, or where diapers are likely to be much more expensive than home? (For example, if you're going on a cruise, don't expect to be able to buy any on board, or to find diapers easily or inexpensively at most cruise ports.) If not, plan ahead by multiplying your estimated daily diaper number by the number of days you'll be on your trip, plus add some extra just in case. On the plus side, you'll have plenty of space freed up in your luggage at the end of your trip for souvenirs or purchases.
---

Baby Travel Hacks #5: Keeping the Little One Entertained
I got 40 stuffed animals at the thrift store for just $5!
Whether you're in a car or on a plane, keeping a baby sufficiently entertained during hours and hours of travel in a confined space can be a tough job-- especially once they're old enough to walk. And between the fact that infant and child toys aren't cheap, and the fact that their attention spans are so short, you can drop a lot of money trying to keep them happy and quiet.
If they're old enough, you could certainly hand your child your smart phone or ipad, but do you really want them drooling on it? And how are you supposed to use it yourself when it's acting as the babysitter?
So what you need are baby travel hacks guaranteed to keep your child diverted and happy...without breaking the bank. 
First, prepare two small bags of little, new toys. When I say "new" I mean "new" to the child, not brand-new. If money is no object you can certainly go out and buy things, but I'd rather spend the money on souvenirs or travel purchases. 
This bag of 14 toys only cost $1.99 at the thrift store.
Instead, I prefer to visit my local thrift stores, which often sell quart-sized bags of used little toys-- Happy Meal toys, small cars, mini dolls, blocks, etc.-- for $2 or less per bag. The items are small, cheap, many (often 6-10 items per bag), and best of all, new to the child as long as you don't show them to your child until your flight or drive. 
Don't hand the whole bag out at once. Your goal to keep their attention as long as possible. So bring out one toy at a time and only bring out another toy when they are bored with the previous one. If a toy is a hit, great-- keep it for the return trip. If not, throw it out. After all, it only cost you a quarter or less. Don't forget to keep the contents of the second bag hidden in your suitcase until the return trip so that they are "new" to your child. 
Baby Travel Hacks Cleaning Tip: I always clean the used toys thoroughly and put them in a clean bag before the trip. A capful of bleach in a large bowl of water works well for plastic toys, while cloth toys can be thrown in the washing machine or put in an airtight bag and left in the freezer for a couple of days to kill any germs. 
Here are 31 tips for cleaning baby items.
---

More Baby Travel Hacks...and Travel Tips
A few more baby travel hacks which I swear by...
- Leave the big, bulky stroller at home. Carry your infant through the airport, or, if you have a toddler or a child who can sit up unaided, $30-$40 will get you a foldable umbrella stroller which you can use to take your child right up to the airplane doors. Be sure to ask the attendant at the gate to give you a tag for the stroller, then leave it just outside the door to the plane alongside the carry-ons which are too big to fit onboard.
- If your child is on solids, bring lots of little snackable items-- like Cheerios-- which you can hand out one by one to keep them occupied. Don't count on buying any infant-friendly food on board-- or finding any in the airport.
- Remember that while the TSA allows you to bring infant formula, breast milk, or juice in bottle in amounts larger than 3.3 ounces through security, you DO have to declare it ahead of time, and you do need to potentially allow extra time for them to check it. Remember that as an adult, you will be unable to bring any liquids in bottles larger than 3.4 ounces. I always bring a water bottle to the airport but drink or empty the contents before going through security, then fill it up again in a water fountain at the gate.
For more travel tips and ways to save on travel and entertainment, check out my Affordable Family Travel page.
Virginia Beach Family Fun

› Baby Travel Hacks