Latest Airline Travel Rules
Airline travel rules seem to almost change daily. The rule for liquid carry-ons seem particularly "fluid" (if you'll pardon the pun!).
When my mom flew domestically a few years ago, they took away her liquid saline solution for her contacts. With the dry airplane air (airplane air is literally as dry as the Gobi Desert) she had to take out her contacts and fly "blind", or risk being uncomfortable.
I've tried to take some of the confusion out of these latest airline travel rules...so you can get right down to the business of having a fantastic family vacation getaway.
According to the TSA (Transportation & Safety Administration) website, here are the latest airline travel rules for liquid carry-ons. (But you may want to check the link at the bottom of the page...these rules can change on a daily basis!)
---

New TSA Rules Affecting Carry-Ons
Starting June 30, 2018, foreign airports will be checking carry-on bags more closely in a attempt to identify powder which might indicate explosive devices. According to Travelnews.com, new TSA regulations will require those going to the US from another country to remove and show any powdered substances (like talcum powder).
As a result, you may want to start treating powdered substances the same way you do liquids, putting them in clear ziplock bags and perhaps even removing them from your carry on when you go through security. The magic amount of powder that may flag you is 12 ounces, so you may want to put make up, baby powder or baby items like formula in a carry-on bag.
---


Make Your Trip Better Using 3-1-1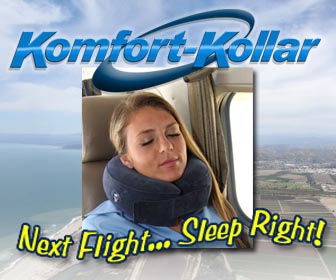 Can't sleep while flying? Try the award-winning, Wall Street Journal recommended Komfort Kollar. Click here for details...
According to the TSA (Transportation Safety Administration), liquid carry-on items have to follow the 3-1-1 rule. In plain English?
All carry-on liquids must be carried in a bottle (glass or plastic) that is 3.4 oz. or less.
They define "liquids" as liquids (like water, juice, hand sanitizer, etc.), aerosols, or gels. Scroll down to the bottom of the page to a link of acceptable liquids.
Containers larger than 3.4 oz. that are half-full, or rolled up (like a half-empty toothpaste tube) are not allowed. (But if it's empty, or mostly empty, it should be okay - I always empty my water bottle before going to security, just to be on the safe side.)
Bottles must be in a 1-quart-sized clear plastic bag with a zip top that has been closed. The TSA says they don't allow gallon-sized bags or sandwich bags. (NOTE: This is official TSA policy, but I just keep my liquids in a cloth and plastic toiletry kit and I've never had a problem.)
The TSA says that if you have more than one bottle (and remember, they can't be more than 3.4 oz each) you can't have more than one bag per passenger.
Larger bottles of liquid (baby formula, prescription meds, etc.) must be declared. If declared -- and on the accepted list-- they don't have to be in a zip-top bag. 
If in doubt, put your liquids in checked luggage.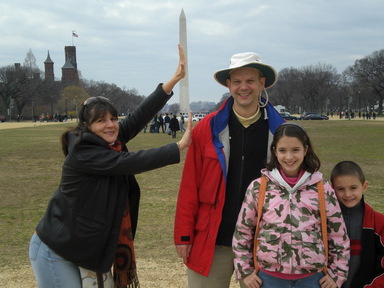 Washington DC has so many free things to do!
I know this is what the TSA guidelines say, but I've traveled on probably 50 flights since those guidelines came out and I virtually never put my liquids in a zip lock bag. Never once have they said "boo" to me about it. So I'd say the baggie thing is up to you.
Will following these guidelines keep you from losing your lip balm? We can't promise anything. TSA screeners are individuals, and airline travel rules can change from day to day.
To check on the latest airline travel rules, go to the TSA website.
---

Don't Get Caught in the Bottle Trap
If you're like me, you want to bring a bottle of water on the flight. Otherwise, you can wait up to two hours (depending on turbulence) before the inflight beverage service begins. (And I've heard report after report about the poor quality of water in the lavatories-- don't drink it!)
"But I can't take a bottle of water on board...it's over 3 ounces," you say.
Here's what I do: Bring your bottle of water to the airport. Take a good swig BEFORE going through Security, and then EMPTY what's left in the bottle.
Once you're on the other side of Security, you can fill it up at a water fountain or kiosk (if they let you!). Beats buying a new bottle of water for $2.50 or more at an terminal kiosk or restaurant! 
---

Acceptable & Unacceptable Carry-on Liquids for Airline Travel
According to the TSA, these are the liquids you can bring in your carry-on for airline travel:
Baby formula, breast milk, and juice
All prescription and over-the-counter medications (liquids, gels, and aerosols) including KY jelly, eye drops, and saline solution for medical purposes;
Liquids including water, juice, or liquid nutrition or gels for passengers with a disability or medical condition;
Life-support and life-sustaining liquids such as bone marrow, blood products, and transplant organs;
Items used to augment the body for medical or cosmetic reasons such as mastectomy products, prosthetic breasts, bras or shells containing gels, saline solution, or other liquids;
Gels or frozen liquids needed to cool disability or medically related items used by persons with disabilities or medical conditions.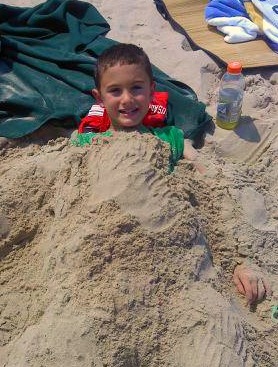 Norfolk Airport is your closest airport to beautiful Virginia Beach.
What liquids are unacceptable in your carry-on? Here are just a few (including a few that might surprise you):
Mace or pepper spray*
Snow globes of any kind
Flammable fluids, including lighter fluid, gasoline, compressed gas
Liquid bleach
Spray paint
*4 oz is permitted if can is equipped with a safety mechanism.
To be on the safe side, if you have any questions about whether a liquid is permitted (or non-liquid items for that matter), go to www.tsa.gov.
Want more tips for how to travel wiser, and for less? Check out my Site map.

Updated 2018

Virginia Beach Family Fun

›

Air Travel Tips
› Airline Travel Rules