Virginia Beach Family Vacation Blog & Daily Deals!
My Virginia Beach Family Vacation Blog is your source for daily deals and breaking news on travel and ticket discounts in Virginia Beach, Busch Gardens Williamsburg, Colonial Williamsburg, Jamestown, Washington, DC, and beyond.
I'll give you the latest deals-- from hotel stays for 1 cent per night, to free admission days at Virginia attractions-- as well as secrets for visiting the top spots for less.
Plus, I'll give you insider reviews of the best restaurants and free or cheap places to visit. 
To keep up-to-date on deals and reviews, sign up for my RSS feed. Go to the box on the top right of this page where it says "Subscribe to this site" and you'll see an orange RSS button. Right click on it and paste the URL into your RSS reader.
---

Check out my latest Virginia Beach Family Vacation Blog deals!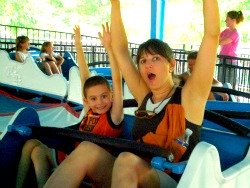 Are you on Twitter? You can always check out my latest deal posts by finding me on Twitter:
@vabeachfundeals
Ready for the latest news, ticket deals, and travel and entertainment advice for southeast Virginia? Look below:
Kings Dominion Hours at a Glance
I'm kinda surprised that my Kings Dominion Hours page is so popular-- that is, until I remembered that my Kings Dominion Hours page lets you see park hours and operating schedule at a glance. No muss, no fuss-- unlike the official Kings Dominion site which isn't the easiest place to to search when you just want to know what time the park opens on a particular day!
So check out my Hours page, and while you're at it, check out no less than 14 ways to get Kings Dominion ticket discounts here.