Virginia Beach Family Vacation Blog & Daily Deals!
My Virginia Beach Family Vacation Blog is your source for daily deals and breaking news on travel and ticket discounts in Virginia Beach, Busch Gardens Williamsburg, Colonial Williamsburg, Jamestown, Washington, DC, and beyond.
I'll give you the latest deals-- from hotel stays for 1 cent per night, to free admission days at Virginia attractions-- as well as secrets for visiting the top spots for less.
Plus, I'll give you insider reviews of the best restaurants and free or cheap places to visit. 
To keep up-to-date on deals and reviews, sign up for my RSS feed. Go to the box on the top right of this page where it says "Subscribe to this site" and you'll see an orange RSS button. Right click on it and paste the URL into your RSS reader.
---

Check out my latest Virginia Beach Family Vacation Blog deals!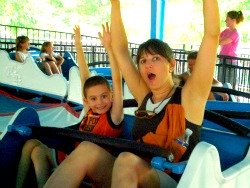 Are you on Twitter? You can always check out my latest deal posts by finding me on Twitter:
@vabeachfundeals
Ready for the latest news, ticket deals, and travel and entertainment advice for southeast Virginia? Look below:
Groupon 2-Day Sale
Here's a summer deal to snap up: For two days (August 17 and 18) get 20% off up to three local Groupon deals or 10% off up to three Goods or Getaways deals when you use the promo code EXTRA.
Last month, I used a similar Groupon promo to snag an 11-piece comforter set for ridiculously cheap price. You might use your deal on something more to your taste-- such as 45%+10% off a Segway tour of Richmond (my friend Jimmy recently did this tour and loved it!), 50%+10% off a tour of historic Berkeley Plantation, or 52%+20% off a winery tour at Crosskeys Vineyards.
But don't wait, since the deal ends at midnight on Aug. 18, so start looking at the local Groupon deals here.