Best Deals on Virginia Beach Hotels, B&Bs, and Campgrounds

Looking for Virginia Beach hotels?
It can be dizzying choosing between all the hotels, motels, condos, vacation rentals and other accommodations at Virginia Beach...
Do you want to overlook the ocean? I've got reviews of hotels that are on the Boardwalk, family-friendly, and full of amenities. Plus, I'll tell you which hotel you might want to AVOID.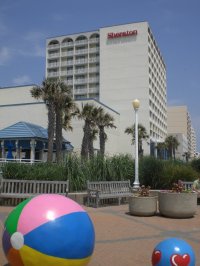 The Sheraton at the Beach.
Click here for reviews of top Virginia Beach oceanfront hotels
Maybe you'd prefer a quiet B&B? Maybe you're interested in a condo rental or timeshare?
Or perhaps your #1 criteria is for a cheap hotel deal?
Then, I'll give you tips for getting a great hotel rate. Scroll down for a great resource from HotelsCombined-- it allows you to search hotel rates from multiple online booking sites at the same time. So, you'll be sure to get a great deal on Virginia Beach hotels.
Looking for a campground? Virginia Beach has a variety of wonderful campgrounds near the Virginia Beach, Williamsburg, Jamestown, and other vacation spots in Virginia.
For rock-bottom last-minute hotel room deals, check out my "How to Get a Great Rate" tips below.



---

Spring Savings Deals!

Check out these Spring Hotel Savings Deals!
Choice Hotels Special Deals - They have golf, romance, and stay & fly packages, AARP deals, and deals that will earn your up to 50,000 bonus points. Click here for details.
Best Western - Click here for Deals, discounts and special offers on hotel reservations worldwide.
Orbitz 15% Off Promo Code - Use promo code 48SALE and you'll get 15% off hotels when you book by June 30.
Specials at Siebert Realty - Get away from it all with these Virginia Beach rental deals from one of the best, most-reliable VB rental sources, Siebert Realty.
Expedia Winter Deals - The online giant is offering up to 35% off on hotels and flight plus hotel vacations.
Plus, if you spend $400 on travel they'll throw in a $100 MasterCard® Prepaid Card. Click here for details.


---

Check out These Package Deals at Virginia Beach Hotels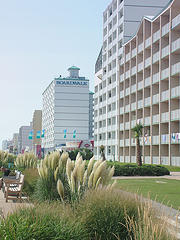 Photo by Lindsay M. Curtis © 2011-2012
Wondering how to make your vacation dollar stretch? How about a well-deserved vacation for less in Virginia Beach hotels?
Virginia Beach is offering special package vacation deals at Virginia Beach hotels ranging from romantic weekend getaways, to aquarium packages, to fun in the sun family packages. Here are just a few packages at top rated oceanfront hotels:
Best Western Busch Gardens Package (offered March-October)
Enjoy both Virginia Beach and Busch Gardens Williamsburg with this package deal. The package includes two nights oceanfront accommodations and a one day ticket to Busch Gardens. Package prices start at $98.00 per person, based on double occupancy. Call (800) 344-3342 for details.
Wyndham Virginia Beach Resort Deals If it's summer, try this summer package deal at Wyndham Virginia Beach resort: Make a reservation for an oceanfront room and you'll get a cooler chock full of snacks, beverages, suntan lotion, two beach towels and a beach ball. Prices range from $169 to $209 per night. There are certain restrictions, like a 2-night minimum.
They're also offering packages with free $25 gas cards and other discounts. Call (800) 966-3426 for details or click here..
Beach Spa's Deluxe Romantic Package
Here's a pampering package at the Beach Spa Bed & Breakfast good for a honeymoon, anniversary, or just general romance. It includes a two-night stay, a wine welcome reception, a Salt Water Taffy turn down, two multi course gourmet breakfasts daily, two Entrées at a top rated restaurant, a couples massage, heated spa pool, and a heated massage water fall. Rates are $275. For details, call (757) 422-2621.
Holiday Inn Surfside Package Deals
One of the family-friendliest Virginia Beach hotels, the Holiday Inn Sunspree is offering a 5-night Staycation Deal. The package, which starts at $239, includes 5 nights oceanfront accommodation with a king sized bed and a sofa sleeper, breakfast each day, and use of amenities including a 50-seat Movie Theater, Kids Klub, Splish Splash Lagoon, and fitness center. In the summer, they usually have a 3-night stay deal, a Pizza Family Getaway, and more. Call 757-428-1711.

Whale-Watching Packages
December through March, go on an adventure of a lifetime with a whale-watching package starting at just $83 per person. Packages include: Two nights accommodations, a whale-watching excursion, tickets to the Virginia Aquarium, an IMAX movie, and even breakfast!
Check out our Whale Watching Packages page for details.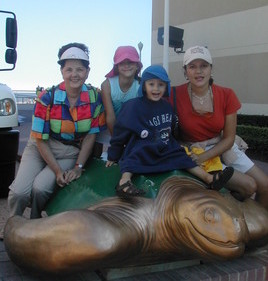 There's so much to do at the Boardwalk...
Virginia is for Lovers Package at The Oceanfront Inn
Celebrate your special event with this romantic package at the Oceanfront Inn. Includes a gourmet basket with wine glasses, a bottle of Williamsburg Winery Acte 12 Chardonnay, and gourmet chocolates by Schakolad Factory. Minimum 2 night stay. Prices: $139.00 - $419.00 plus tax per couple. Call 888-826-2326 for details.
Surfside Oceanfront Inn & Suites Winter Deal
Visit off-season and you'll get amazing rates at this oceanfront inn that includes free deluxe continental breakfast with hot waffles. Oct-Dec rates start at $49-$59 for 1-2 people. For details, call 757-428-1183.



---

Kids Stay Free Packages
One way to save on Virginia Beach hotels costs is to stay where kids eat free. Both Holiday Inn and Marriott offer kids eat free deals, although the the Marriott deal has more restrictions.
At Holiday Inns, kids under 12 always eat free with a paying adult
. Examples are the Holiday Inn Sunspree at Virginia Beach, and the Holiday Inn Hotel and Suites Williamsburg.
At certain Marriots, you can book an Escape Family Time Package which also lets kids 12 and under eat free with a paying adult, plus throws in a free in-room pizza party. However, availability varies significantly by date and location.
For example, randomly plugging in the weekend dates of May 29-31, I was able to get the deal at five Marriott properties in the Virginia Beach and Hampton Roads area. But when I put in the mid-week dates of June 2-4, there were no Marriott properties offering the rate. So plug in your dates using the link below and see if it's available on your travel dates. Be sure to use the corporate-promotional code MAJ.
Copy and paste this link in your browser: http://www.marriott.com/marriott.mi?page=family-getaway



---

How to Get a Great Rate at Virginia Beach Hotels...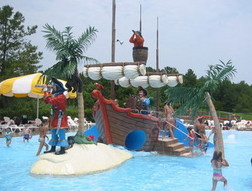 OceanBreeze Waterpark is near the beachfront.

Consumer Reports just published a guide for dealing with high hotel prices. Among their suggestions (and some of ours) for saving money at Virginia Beach hotels:
Join a hotel loyalty program: Frequent guests earn free nights, future discounts, room upgrades and airline miles. For example, Best Western lets you earn rewards on your hotel reservation worldwide at a low rate guarantee. Be flexible: stay away from holidays and be willing to change your dates a day or two in either direction
Book early: Don't wait until the last minute. Call Virginia Beach hotels directly as early as possible; they may be willing to give you a good rate in order to lock in a reservation.
Call back: Call back 24-72 hours before you arrive at Virginia Beach hotels. If the rate has dropped, you can usually rebook at the lower rate. One example is the Look No Further Best Rate Guarantee at Marriott.com. If you book through Marriott.com and then find a lower publicly available rate within 24 hours for the same hotel, room type and dates anywhere on an internet travel site, through a travel agency, travel management company, or even another Marriott reservations channel, Marriott will match the lower rate and give an additional 25% off. (It is subject to terms and conditions, but it can be a great deal!).

The Courtyard Marriott at the beachfront.

Ask for the lowest rate at Virginia beach hotels: Don't assume you're getting a good quote! Ask for the lowest rate or the corporate rate (usually the lowest rate they can offer). You don't have to be on business to get it.
Try AAA: If you have AAA, always ask for the AAA rate. It's usually good for saving $5-$10 per night or more.
FIND COUPONS!: They may not be easy to find unless you know where to look. Luckily for you, we do!

For example, Roomsaver.com offers coupons--good for walk-ins only-- that can get you an oceanfront room for as little as $39.95 per night in the off-season!

For the link to Roomsavers and other Virginia Beach lodging coupons, click here.

Shop multiple sites: This can be time-consuming. That's why we like onsite rate-finders like www.sidestep.com or www.hotelscombined.com which check multiple sites at once.

Ready to compare rates on VA Beach hotels (or hotels in Norfolk, Williamsburg, or other great cities)?


Here's a great resource from
HotelsCombined
that lets you
search hotel rates from multiple online booking sites
at the same time.
Just enter in your check-in and check-out dates and the name of the city where you want to stay. (Note: the search may take a a minute or more, since they're searching multiple sites.) You'll get back a list of VA Beach hotels with room prices, hotel ratings, and --best of all, in my view-- reviews from people who've stayed there. Sort them by price, reviews, location and more. Try it!


Planning on going to visit Colonial Williamsburg? For info on getting a great rate on a Colonial Williamsburg hotel,
click here.
For our top five don't-miss spots at Colonial Williamsburg, plus our "Secrets of a Cheap Colonial Williamsburg Vacation", click here.



---

The Virginia Beach Find-A-Kid Program

One of parents' biggest fears on a beach vacation is losing their kids. That's why the city of Virginia Beach has a special Find-a-Kid Program that helps reunite lost kids with their parents.
Sixty-one Virginia Beach hotels participate in the program, which gives kids special ID bracelets, featuring their hotel name and an ID number. For details, and to find a hotel that participates in the program, copy and paste this link in your browser: http://www.vbhma.com/find_a_kid.php

Can't find what you're looking for? Go to my Site Index

Virginia Beach Family Fun › Virginia Beach hotels