Virginia Beach Shopping -- Serious Bargains for Serious Shoppers

Virginia Beach shopping has something for both casual and serious shoppers alike.
Look below for our new Thrift Stores page!
In fact, it's a shopping mecca...full of interesting and unique little boutiques and tourist treasure shops, antique stores, malls--including Lynnhaven Mall, MacArthur Center, and the new, upscale Virginia Beach Town Center.
If you're staying at or near the oceanfront, you'll find a wide variety of touristy spots along both sides of Atlantic Avenue, just one block over from the Boardwalk. Buy swimwear, one-of-a-kind ocean-themed jewelry, and bear gear, or rent a bicycle or rollerblades.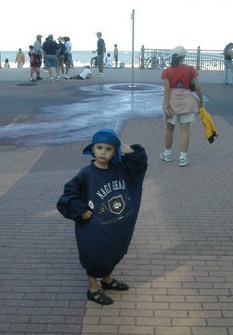 Forgot your swimsuit? Don't let this happen to you! Visit
Megs Swimweat or Sunsations on Atlantic Boulevard.


TIP!
As you're walking Atlantic Avenue and the oceanfront area, be sure to pick up a free visitor guide, like the "Sunny Day Guide" or the "VB Visitor's Guide." You'll find coupons that can save you lots of money at shops, restaurants, and attractions along the Virginia Beach oceanfront. More about that below!
---

Shopping Along Atlantic Avenue

Here are our recommendations for Virginia Beach shopping along or near the oceanfront:
Swimwear and Beach Accessories
If you forgot your swimsuit, or just want a new bikini, try Megs Swimwear or Sunsations. Both boast a full of bikinis, one-piece, and tankini suits, as well as swim and sun accessories, including t-shirts, cover-ups, hats, and flip flops.
Megs is a Virginia Beach shopping store that's a little more upscale (you'll find European designer suits there). Sunsations has a better selection of towels, sunglasses, sun chairs, boogie boards, and water shoes. They're also a great spot to get postcards. Sunsations also has seven locations.
Megs Swimwear address: 307 Laskin Road (2 blocks from the ocean). Megs Swimwear phone number: 757-428-7945.
Sunsations address: Atlantic Avenue and 5th Street, as well as 8th, 11th, 14th, 19th, 24th, and 33rd Streets. Sunsation hours: 8 am-Midnight, all year round. Sunsations website: www.sunsationsusa.com.
Find cool beach floats at Coastal Edge at 21st and Arctic.


Note: Sunsations always has coupons in the visitors' guides. These may include offers like a free box or taffy when you by $15 or more, or $5 off a purchase of $50 or more, so don't forget to pick up those guides to take advantage of their coupons for Virginia Beach shopping!
TIP! Save on postcards! Some of the free Virginia Beach visitors guides (which are available on most street corners along Atlantic Avenue or outside certain restaurants) have free postcards inside them. The "VB Guide" usually has a postcard.
Other beach and casual clothing shops include Island Breeze, which calls itself the largest Tommy Bahama dealer in the area, Mango Bay, which is located in the Shoppes at 31 Ocean, a small but elegant indoor mall, and the Harley Davidson store, Harley Haven.
Island Breeze address is 3028 Atlantic Avenue. Island Breeze phone number is 757-201-6078.
Mango Beach address is 3020 Atlantic Avenue. Mango Beach phone number is 757-201-6185.
Harley Haven address is 1920 Atlantic Avenue. Harley Haven phone number is 757-425-2458.
For surf shops, don't miss Coastal Edge, which is one of the biggest surf shops in Virginia Beach. You'll find swimwear, t-shirts, surf boards, boogie boards, sneakers, and more. Coastal Edge address is 21st and Arctic. Coastal Edge phone number is 757-422-4640.
Rentals
The most popular places to rent bicycles, rollerblades, or family bikes (that seat 5-10 people) are NJ Convenience & Gift and Prise Food Mart. Owned by the same company, they offer to "meet or beat any competitors price," and usually offer coupons in the visitors guides. They're good places to buy disposable cameras, groceries, gifts, and beach supplies.
The same company also has 5 other locations that offer the same rentals, gifts, and more. Here are their addresses so you can find the one that's most convenient to you.
NJ Convenience & Gift address:
18th Street and Boardwalk (inside the Howard Johnson Motel). NJ Convenience phone number: 757-491-6792
Prise Food Mart address:
9th Street and Atlantic Avenue. Prise Food Mart phone number: 757-437-8381
Atlantic Convenient Mart address:
28th Street and Atlantic Avenue. Atlantic Convenient Mart phone number: 757-491-6143
Quick Food Mart address:
22nd Street and Atlantic Avenue. Quick Food Mart phone number: 757-425-1368
Atlantic Food Mart address:
16th Street and Atlantic Avenue. Atlantic Food Mart phone number: 757-422-3437
Pier Food Mart address:
14th Street and Boardwalk (inside the Sandcastle Resort). Pier Food Mart phone number: 757-428-8111
Boardwalk Convenience & Bike Rental address:
13th Street and Boardwalk (inside the Surfside Resort). Boardwalk Convenience & Bike Rental phone number: 757-417-7307
TIP! Need cash for your Virginia Beach shopping blast? All these convenience/rental stores have ATMS that are open from 7 am to midnight in season.
Candy and Unique Spots
No Virginia Beach Shopping excursion is complete without fudge or taffy. Candy Kitchen is probably the best candy store on the strip, with fabulous fudge made fresh daily. Don't miss coupons in the visitors guides which give you a free pound of fudge when you order two pounds or more.
If saltwater taffy is more your bag, the best place is Forbes, which bills itself as the "only local manufacturer of saltwater taffy." They often have coupons in the visitors guides as well. They have three locations.
Candy Kitchen address: 18th Street and Atlantic Avenue. Candy Kitchen phone number: 757-422-9964.
Forbes Candies and Gifts address: 24th Street and Atlantic Avenue, 28th Street and Atlantic Avenue, and 31st Street and Atlantic Avenue.
Top Braiding Spot: One of the in things to do while Virginia Beach shopping is getting your hair braided (you know, with the tiny braids and beads?). Braids on the Beach gets top marks for their hair braiding and hair wraps. They offer multiple locations, so cal the number below to find the one nearest you. Also, look for coupons in the visitors guides.
Braids on the Beach phone number: 757-450-1715.
Lest Fluffy feel left out, here's a place to take your canine friend for some Virginia Beach shopping: Mrs. Bones' offers decorative dog collars-- in all colors, rhine-studded, you name it-- and other gifts for that special pooch in your life. Mrs. Bones' address 1616 Hilltop West. Mrs. Bones' phone number is 757-412-0500.



---

Williamsburg Outlet Malls

If it's outlet mall shopping you have in mind, Williamsburg is the place to go. What outlet shops are in Williamsburg? Scroll down to see how you can get a comprehensive list of all the major shopping areas in the Williamsburg area.
Year after year, we've found the very best Virginia Beach shopping bargains at these two Williamsburg outlet malls:
Prime Outlets Williamsburg
How would you like to shop at a place ranked within the top 10 outlets stores in the industry? It's often considered THE top spot for Virginia Beach shopping.
You can save 25%-70% or more on famous name merchandise (Polo Ralph Lauren, GAP, Coach, Coldwater Creek, Aeropostale, J. Crew, and Harry and David's, to name a few). At one outlet, I bought a pair of very elegant, suede-like pants that were 85% off the original price. At another outlet for a VERY famous brand, I found top-quality, v-neck t-shirts for women at $1 each.
And Prime Outlets Williamsburg is getting bigger than ever, adding another 1/3 to its already huge list of outlet stores in the last few years. Click here to read about the best bargains at the Prime Outlets.

Williamsburg Pottery

Williamsburg Pottery is a quirky, but profitable shopping experience and tourist attraction. The Pottery consists of a huge group of cavernous warehouse buildings that go on and on (200 acres worth!).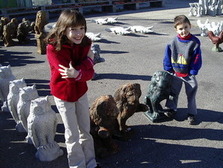 It's NOT much too look at! But serious shoppers will love it. They even have their own campground--complete with a swimming pool--that offers a super savings package for shoppers who stay there. And it's a convenient place to stay if you're going to Colonial Williamsburg, Busch Gardens Williamsburg, Water Country USA or Great Wolf Lodge Williamsburg.
The Pottery thrives on the unique. For example, bring in a special piece from home-- Grandma's antique brass candlesticks, Aunt Mary's old china vase, even the cast you had on your leg from that spectacular fall you took skiing (hmm, maybe it's better to forget that one)-- and they can turn it into lamp! They can make a lamp from just about anything. (Or repair that unrepairable family heirloom lamp in your attic.)
Want to learn what kinds of bargains we've found at Williamsburg Pottery? Click here.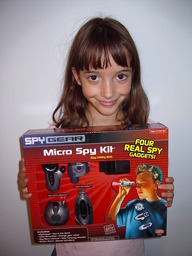 Ready to go spying?

Actually, there are many, many other shopping options in Williamsburg, from doll factories to a Yankee Candle outlet where it "snows" indoors all year long. Here's a full list of Williamsburg shopping spots, plus an explanation of why Yankee Candle makes our "Cheap or Free Family Fun" list.
TIP! Looking for really cool, unusual toys or gifts? Besides Virginia Beach Shopping, we always find great stuff at the gift shops of area museums and science centers. We bought this spy gear set--including a spy telescope, a listening device, a spy watch, and a motion detector--at Science Museum of Virginia in Richmond.


For a full list of Williamsburg shopping spots, click here.

---

New! Our Favorite Thrift Stores for Fabulous Bargains!

If you REALLY love bargains, then you're probably already a thrift store fan. If not, try it! I've found AMAZING deals at local thrift stores, and the Virginia Beach shopping area has some fabulous ones where I've found nearly new brand name clothes for as little as 99 cents! Click here for my Thrift Stores page.



Return from Virginia Beach Shopping to VB Family Vacation Getaway

Go to Site Index