Water Country USA Discounts & Deals for Wild, Wet Fun
Want Water Country USA discount tickets?  Look below to save $20...and see summer operating hours!
Open the end of May through the first week in Sept., the Mid-Atlantic's largest water park is a wet and wild choice for a gnarly family vacation getaway.
(Keep reading to learn how to save $20 or more at Busch Gardens Williamsburg, Kings Dominion, and Water Country USA.)
I'll share a variety of indoor and outdoor concerts -- nearly all of them free-- you can take advantage of without breaking the bank!
Voted one of America's best water parks by the Travel Channel, it's the sister park of Busch Gardens Williamsburg, which is just down the road.

Some people like to plan a vacation combining both parks, some prefer just to get wet. Whatever your choice, you'll love the park's '50's & '60's "Kowabunga" surf theme, 35 "super-soakin'" water rides and slides, and 82 degree heated pools on cooler days.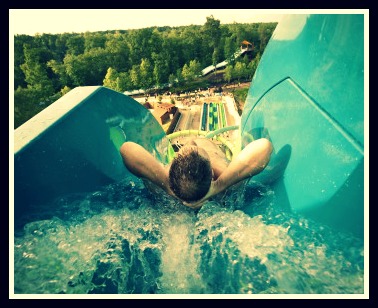 The park is open the beginning of May through the first week in September. I've listed the full summer hours and operating schedule below.
Latest new ride - "Colossal Curl" - A mega slide that promises to give the words "hang ten" a whole new meaning. Another relatively new ride is "Vanish Point," a 75-foot tower with two wave paths, including a 300 foot speed slide where you drop straight down. Look below for an official You Tube video of the upcoming slide.

Here's just a sample of the other rides:
Rock 'n' Roll Island - features three body slides, a "lazy" river, and a slide for "Little Boppers," all set to rockin' music from the 50's and 60's
Big Daddy Falls - a family ride with a tunnel, water curtain, "cannon blasters," and two splash pools
Hubba-Hubba Highway - Fast-moving lazy river with interactive water features


Lemon Drop - Bright yellow slides that shoot you airborne before plunging you into the pool
Nitro Racer - a mad race to the finish on plastic mats against six other guests
Rampage - a tobaggon slide dropping you 75 feet at a 60 degree angle
Surfer's Bay - Virginia's largest wave-pool with four foot waves
Ready to get wet? There's more...
For the little kiddies, there's Cow-A-Bunga (heated water playland with water slides, fountains and waterfalls, H20-UFO (super slides and fountains), and Kritter Korral (a playground and mini slides for the littles tykes).
---



Admission Facts -




Here's How to Save!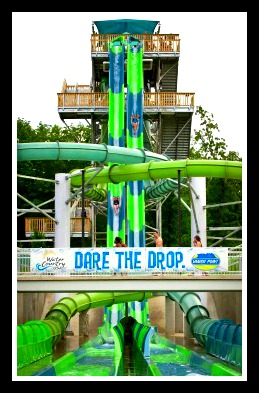 Water Country USA has admission prices comparable to most other big-name theme parks. If you're just going for the day, the admission facts are fairly simple.
$51 for adults
$44 for kids 3-9
But why pay more than you need to? Click below for:
- Single-day ticket deals--including Fun Cards, $20 off tickets, and military discounts
- Busch Gardens Williamsburg discount ticket deals
---

Water Country USA Hours &
Operating Schedule
Here's the park's hours and operating schedule (note-- on operating days, the park always opens at 10 am):
May Hours
Opening day - Saturday, May 16
Open May 16, 17 and 22, and May 26-29 - 10 am - 5 pm. 
Open May 30-31, 10 am to 6 pm
Open May 23-25, 10 am - 7 pm
June Hours
The park is open every day during June. 
Open June 1-5, 10 am to 5 pm daily 
Open Mon-Thurs., June 6-12, 15-18, 22-25, and 29-30 - 10 am to 7 pm daily
Open weekends, June 13-14, 19-21, 26-28, 10 am to 8 pm daily
July Hours
The park is open every day during July. 
Open Mon-Thurs., July 1-2, 6-9, 13-16, 20-23, 27-30 - 10 am to 7 pm daily 
Open weekends, July 3-5, 10-12, 17-19, 24-26, and 31 - 10 am to 8 pm daily 
August Hours
The park is open every day in August. 
Open Aug. 3-6, 10-13, 17-20, 24-30 - 10 am to 7 pm daily 
Open Aug. 1-2, 7-9, 14-16, 21-23, - 10 am to 8 pm daily 
Open Aug. 31, 10 am to 6 pm
September Hours
The park is only open three days in September. 
Open September 1-4, and 7 - 10 am to 6 pm 
Open September 5-6, and 6 - 10 am to 7 pm 
Closed for the season September 8. 

Can't find what you're looking for? Go to my Site Index
Virginia Beach Family Fun

› Water Country USA