Howl-O-Scream Haunts Busch Gardens Williamsburg!
Ready to Howl-O-Scream? Busch Gardens Williamsburg is haunted!
Open weekends to Sept. 12 to Oct. 26 in 2014 - Look below for FOUR current discount ticket deals, coupons, and promo codes. 
Well, it's not exactly haunted. But if it's Sept.-Oct., you can be sure that the park's fall attraction is scaring up a storm.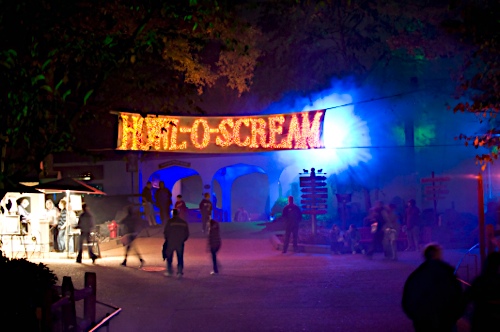 Open weekends through October 26, this Halloween extravaganza boasts frightening fun for all ages. In addition to the usual thrills and chills from major roller coasters like Griffon and now five-themed "Terror-tories."
These include: "Ripper Row" (in England), "Vampire Point" (in Germany), "Demon Street" (in France), and "Ports of Skull" (in Italy), plus the new "Wendigo Woods." 
Eat and drink if you dare: Themed dining halls include "Blood Banquet," "Igor's Frightfest," and "Crow's Nest Grill," while bars include "Buccaneer Galley," "Demon Drinks," and "Pirate Baarrgh," and the brand-new"Inoculation Station" and "Open CASKet."  
Haunted houses include the pirate-themed haunted house called "Cut Throat Cove." It joins these haunted houses: Bitten, Catacombs, Root of all Evil, 13, and Dead Line. This year's shows include "Dig it Up," "Night Beats," and "Fiends."
Park Hours & Fun for the Kids
Busch Gardens Williamsburg is open Fridays, Saturdays, and Sundays only during this time. Click here for exact times and dates for Howl-O-Scream.
For the little ones, there's Halloween music, playgrounds, the usual kiddy rides, and the Sesame Street Forest of Fun located in England.
Personally, I wouldn't take little ones to such a scary place...especially with the new "minion hoards" potentially jumping out from every corner. I recommend that if you have little kids, leave the park by 6 pm to avoid the really scary stuff. But if you're willing to deal with their nightmares, be my guest! 
---

Frightening Admission Rates 
You have two basic options for fall admission at Busch Gardens Williamsburg.


BEST BET! Busch Gardens Williamsburg Fall Fun Card
Adult admission (ages 3 and up): $75. Children 2 and under are free.
The Fall Fun Card is good for unlimited admission Sept. 12-October 26. It does not include admission to Christmas Town and does not include parking (which is $15).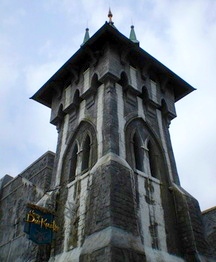 Busch Gardens Williamsburg Single-Day Ticket
Adult admission (ages 3 and up): $75. Children 2 and under are free.
Good for one-day's admission and does not include parking.
Season Passes
1 Park Pass - Busch Gardens Virginia 
--1 Year - Individual Passes: $120 
2 Park Pass - Busch Gardens Virginia + Water Country USA
--1 Year - Individual Passes: $168 
Platinum Pass
--1 Year - Individual Passes: $204 
Dining Deal
Get one lunch and one dinner for $24. Save 35%!
---

2014 
Howl-O-Scream 
Ticket Discounts, Promo Codes and Coupons
Current Promo Codes (as of Oct. 3)
Wendy's Promo Code - Get $10 off single-day tickets (pay $65 per adult) when you use the promo code "BGWWENDYS" online. 
Papa John's Promo Code - Get $10 off single-day tickets (pay $65 per adult) when you use the promo code "BGWPAPA" online.
Virginia Recreation & Park Society Fall Fun Days - through October, you can get adult tickets for $52 and kids tickets for $42 (plus processing fees). For details, go to www.vrps.com.  Note: They offer discounts on Kings Dominion's Halloween Haunt too!
Ongoing Deals
Active Duty Military/Veterans' Deal - Active duty military get complimentary admission and veterans get 50% off admission by going to www.wavesofhonor.com. 
DEAL OVER - Annual Pass Members "Bring a Friend for Free" deal - Active pass members can bring a friend for free on these dates: Sept. 12, 19, and 26. (Time to get friendly with your annual pass friends!)
Discounts/coupon locations which worked in the past and may be offered again later this year (keep checking back for details!):
McDonald's - They offered coupons good for single-day admission discounts in the summer and may do so again later this fall. If they do, the code will probably be "BGWMCDONALDS".
Living Social Deal - Last year, they ran a promotion offering adult tickets for $36 and child tickets for $31, good for Fridays or Sundays in October. Deals like this can end at any time, so go to Living Social quickly if they offer a similar deal. You might keep watch on Groupon too. 
Walmart/Coke Deal - In the past, you could buy select Coke products at participating Wal-Mart stores in Virginia or Maryland and get $15 off a single-day ticket (good for up to six tickets).
Farm Fresh Deal: Two years ago they offered a deal where you could go to Farm Fresh and buy the following to get tickets for as little as $22: a combo of three Pepsi 12-ounce can, 20-packs, or three Lipton 16.9-oz bottle 12-packs. 

Keep checking back for more coupon locations and promo codes! And for more theme park deals, travel discounts, and attractions reviews in Virginia, go to my Site Map.


---

For a really memorable experience, try these ticket options...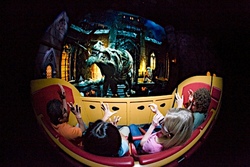 Howl-O-Scream All Access Insider
An additional $100 per person (yep, that's on top of admission and parking!) gives you what the park's site calls "all-access." It includes: backstage tour at a haunted house, dinner at a show, priority access for all haunted houses, reserved seating at two shows, and a make up session with a Busch Gardens makeup artist.

Howl-O-Scream Eerie Insider
For an additional $70 per person on top of admission and parking, you'll get what the park's website calls "...the best of Howl-O-Scream with no lines!"
It includes priority access to every haunted house at the park, plus reserved seating at two popular shows.
Other options include Howl-O-Scream Elite VIP Tour ($230), Monster Stomp Backstage Experience ($25), and Monster Stomp Reserved Seating ($5).
For details on all insider passes, click here. 
Quick Queue Passes
For an extra $55 per person (per visit!), a Quick Queue Unlimited Pass gives you unlimited priority access to all park rides and attractions. Too rich for you? Go for the regular Quick Queue pass. You'll pay $35 for a one-time priority access for each ride or attraction.
---

Looking for more Halloween and
fall fun?
Check out these links for more Halloween and fall fun:
Virginia Beach Family Fun

›

Busch Gardens
› Howl-O-Scream