Free Summer Fun (Spring too!) 
Free Movies, Bowling, and More
Looking for free summer fun? Spring too? As spring and summer roll around, the kids are out of school (or anxiously anticipating getting out soon), and families start the desperate search for something to do!
Sure, you can go a water park like Water Country USA or Great Wolf Lodge. You can visit an amusement like Busch Gardens Williamsburg or Kings Dominion. Or you can check out attractions like Luray Caverns, Virginia Beach, or Washington DC.
But what if you want something really cheap (or free) and close to home?
Check out these cheap or free summer and spring activities! 
---
Free or Cheap Movies
Regal Cinemas is offering its annual Summer Movie Express starting the last week in June at all locations nationwide, including 24 locations in Virginia. Movies are offered Tuesday and Wednesday mornings at 10 am, with two movies to choose from each week.
This year's movies include: Three Stooges, Ice Age: Continental Drift, Mr. Popper's Penguins, Rio, Diary of a Wimpy Kid, the Lorax, and many more.
Movies are just $1 per person, and the money goes directly to the Will Rodgers' Foundation. For details, go to Regal Cinemas "Summer Movie Express".
Unfortunately, AMC Theaters no longer offers its Summer Movie Camp due to low turnout. However, if you go before noon, you can still get cheaper-priced movies.
And for cheap movies year-round near Virginia Beach, check out Cinema Cafe, where you can see first-run movies for $1-$4 every day. 
---
Kids Bowl & Skate Free (or Cheap)
Want a great free summer fun activity? Try free (or cheap) bowling.
All spring, participating AMF Kegler locations are offering a $6 After-School Special. Get unlimited bowling and shoe rental for just $6 per person Mon-Fri 2 pm to 5 pm. No coupon necessary.  
Then, sign up for the summer Kids Bowl Free event. You can sign up for a free summer bowling pass, which lets kids bowl free all summer long. Most locations start the program as early as April 1.
For the ongoing "Kids Bowl Free" program, just find a participating bowling center near you by clicking here. When you find one, register on that center's page. You'll be taken to a page where you can buy a Family Pass. They start at @$25 and let you bowl two games per person per day all summer (good for up to four members).
Note: You do NOT have to buy the Family Pass to get the Kids Bowl Free deal. If you just want the Kids Bowl Free deal, click the link that says "No thanks" at the bottom of the page. Keep clicking and you'll get to a page where you can print your coupon. Thereafter, just go on the website and enter your password and you'll get passes for two free kids games each week.
AMF "Summer Unplugged" Free Bowling for Kids
Like the Kids Bowl Free deal, the AMF "Summer Unplugged" program lets kids bowl two free games per day when you sign up for their program. Plus, if you register your kids, adults can save with an AMF Summer 17 Plus Pass good for up to 4 people ages 17 and older. For details, go to http://freebowling.amf.com/.
Kids Skate Free Deal
Similar to the bowling program, this deal lets kids skate free through the end of June at participating roller rinks. It's only available on certain days of the week and days vary by location. To check out the dates at a center near you, go to kidsskatefree.com. 
---
Free Books for Kids!
In my book (pun intended!), the only thing better than a book is a free book. Which is why my family always participates in summer reading programs through Barnes and Noble.
For some educational but free summer fun, kids can read 8-10 books and get a paperback book absolutely free!
Barnes and Noble - Every year, Barnes and Noble lets kids in grades 1-6 read any 8 books and bring in a completed form to the store to receive a free book. They'll be able to choose from over a dozen popular paperback titles. The program runs the end of May through the start of September.
For all the Barnes and Noble summer reading program details, click here.
Chuck E. Cheese - Download a Chuck E. Cheese reading calendar log, have your child read every day for two weeks, and they can get 10 free tokens. It's good for all of 2012 (one reading log per student per day). Go to their website to download the log.
Half Off Books - Half Off Books offers a $5 Back-to-School Bucks reward to kids ages 14 and under when they read 300 minutes.
Sound too hard? Actually, it's doable if you read just 15 minutes each day! Unfortunately, they don't have locations in Virginia, but maybe they'll have one where you're on vacation or where Grandma lives? Go to halfoffbooks.com.
Pizza Hut BOOK IT! Reading Program - The beauty of this program is that it runs all year. Kids sign up (either through school or as a home schooler) and get a free Personal Pan pizza when they've met their reading goals. For details, click here. 
---
Free Family Adventures & Movies
at the Beach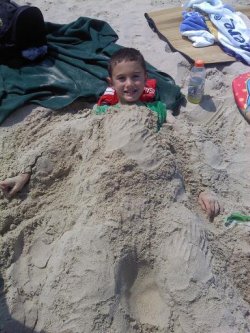 Here's a free summer fun event for the whole family...
Free Family Great Adventures Series at Virginia Beach

Families can join an interactive scavenger-like adventure that will lead you to spots along the boardwalk and Atlantic Avenue as you solve a mystery. End with a family-friendly movie shown on a huge screen on the beach.
Dates: May 25, May 30, June 6, June 20, July 11, July 25, August 1 and August 22 - Time: 6 pm to 10 pm on the Beach at 27th Street.
Here's more details on the Family Great Adventures Series.
---
Free Fireworks & Free Concerts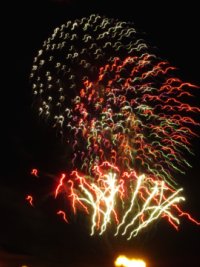 Think "fireworks" and you naturally think about the Fourth of July. But Virginia offers free summer fun fireworks all season long, including the following:
Free Fireworks Shows at the Virginia Beach Oceanfront - at 20th Street on select evenings in June, plus Wednesdays and Sundays in July and August, and Labor Day weekend. Click here for more free fireworks events as they are posted.
And what could be better for free summer fun than free concerts? Here's a list of free concerts in Virginia Beach, Hampton, Norfolk, Williamsburg, and more (dates will be posted as they become available).
---
Free Crafts & Workshops
Here's some free summer fun to keep the kids busy in between summer vacations: Participating Michael's craft stores and Home Lowe's provide free summer fun with free craft projects on the 2nd and 4th Saturdays of each month.
Michael's projects range from American Girl crafts, Father's Day mugs, Klutz projects, and glass bead bracelets. See what's coming up near you by going to www.michaels.com.
Lowe's Build & Grow projects usually include woodworking crafts like wooden race cars and birdhouses. They don't post project dates on their website, so call your local Lowes to check out dates and projects near you at www.lowes.com
Bass Pro Shops Summer Camp
Select Bass Pro Shop's nationwide are offering Free Summer Camp activities Tuesdays and Thursdays and weekends the first week in June 9 through mid-July. Events range from crafts, to a free shooting range, archery, and fishing skills, to s'mores and shooting gallery activities.
Activities and workshops are offered Tuesday & Thursday afternoons from 2 pm to 6 pm, and on Sat/Sun from noon to 4 pm. Crafts are offered Tues/Thurs from 4 pm to 6 pm, and Sat/Sun from 2 pm to 5 pm.
They also offer family-friendly activities during holidays, like during spring break and during Christmas holidays. Just go to www.basspro.com for details. 
---
Whatever You Do This Summer,
Do it For Less!
Finding free summer fun deals and saving money takes time, but why pay more for travel and entertainment when I've done the work for you?
I'll show you:
- which attractions are free or cheap (or can be cheap when you use my tips!)
- how to eat in great restaurants for less!
- which attractions you must see, and which aren't worth your money
Check out these pages for more free summer fun:

Can't decide where to go or what to do? My Attractions page is chock-full of my personal reviews of the best attractions for your buck, from aquariums to amusement parks to presidents' homes!
And whether you're traveling in Virginia, or to anywhere in the US, I'll give you the secrets of how to travel or get entertainment for less, from how to visit museums for "free" to amazing coupon deals. Just go to my Discount Travel Deals page. 
Can't find what you're looking for? Go to my Site Index.
Virginia Beach Family Fun

› Free Summer Fun