Looking for Cheap Gas? Here's How to Get It & Boost Your Mileage
Want cheap gas? Looking for ways to save as the prices keep shooting through the roof?
Just read the news. According to a recent survey by AAA, 84% of Americans say the rising gas prices are changing the way they drive.
Despite temporary drops here or there, don't expect a permanent break at the pumps anytime soon. So soaring gas prices have made many Americans rethink their vacation plans.
But I love a good bargain, so when I see prices start to rocket-- particularly prices that affect my travel plans-- I take it as a personal quest to find the best gasoline deals out there.
So I set out on my gas-price-busting quest. I found a variety of online services that will help you find the best deal around. They include deal-finding sites, widgets, and sites offering fuel economy tips. Here's what I found.
Keep reading for cheap gas apps, widgets, and hotel stays that give you a free gas card!



---

How to Find the Cheap Gas Deals in Your Area
What's wrong with this trunk? Find out below!


Okay. Your first line of defense is to shop around. Gas prices can vary by as much as 20-30 cents per gallon from station to station. So be sure to check a website that specializes in finding you the lowest prices in town.


My favorite is www.gasbuddy.com. Just type in your zip code and it'll bring back the lowest cheap gas stations in that area. Find the one you want, click another button, and voila...they map the location for you! Prices are updated as often as every 48 hours.
How do they do it? People like you...concerned consumers willing to note gas prices as they're driving around, then share that information with www.gasbuddy.com.
They break down the prices by regular, mid, premium, and even diesel. And there's so much more. The latest gas news headlines. Links to check the latest home heating oil and crude oil prices. Trends in pump prices. An eye-opening overview of how fuel taxes vary by state.
Planning on driving cross-country? Check out their Gas Price Temperature Chart. Wow! What an amazing chart (it's actually kinda pretty). Areas with the lowest prices are in green. Prices with the highest are in red. Overall, Arizona looks the greenest, while California looks like it's about to burst into flame.
Obviously, I really like www.gasbuddy.com. But here are two other sites which also let you compare gas prices:

Make it Easy - Get a Cheap Gas Widget!
Don't want to take the time everyday to check the best deals? Let a widget do the work. Widgets are computer applications that you can download to go on your toolbar to keep you up to date on gas prices.
GasBuddy lets you download a widget that you can put on your desktop or web page. You'll get the current gas prices at your local stations. Just click this link to get started with the GasBuddy widget.


How to Get Cheap Gas on the Move
What if you're on vacation and can't stop to check your computer to find the best cheap gas deals? Do it through your cellphone.
Gasbuddy.com offers an application which you can download onto your cellphone that lets you check prices. It's kind of complicated, so check out this link for details.



---

Consider Gas Card Deals...Carefully!
As gas prices shoot up, more and more places are offering gas card deals.
But are they are good deal?
Particularly in the summer, Quality Inns, Comfort Inns, and Choice Hotels, and Courtyard by Marriott frequently offer deals like a free $50 gas card if you stay two nights.
However, if you subtract the value of the gas card, you may find that the room rate is higher than the "best available" rate at the hotel. So if you're considering these offers, be sure to check whether it really is a deal.
Consider a Gas Rewards Credit Card - A variety of credit cards offer cash back deals or points on gas purchases. Bankaholic.com is one site that allows you to compare the different gas rewards cards to see which one works best for you.
Click here to see how Bankaholic.com compares these cards.



---

Tips to Make that Cheap Gas Go Farther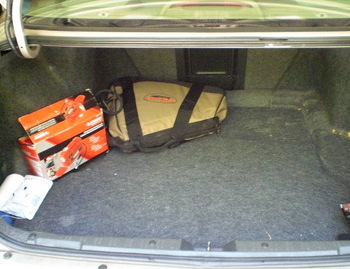 The less stuff in your trunk, the better your mileage! Only keep car emergency supplies.


While there are things you can do to boost your fuel economy, here are the easiest tips to making that cheap gas deal you just found go farther:
Travel Light - Lighten up that trunk! Do you really need to keep all those books, heavy winter boots, and other junk in the trunk?
Compare this trunk to the one at the top of the page. Which one looks more like yours? In this version, I've only left in car emergency supplies (like jumper cables and a portable tire inflator).
Dump out the junk. Remember: the heavier the load, the worse the mileage.
Ease up on the Pedal - I know. I found it hard to believe too, but it really is true. The faster you drive, the worse the mileage. Every 5 mph you drive over 60 mph is like paying an extra $0.20 per gallon for gas!

So stick to the speed limit (okay, maybe a few miles over on the freeway...). Added benefits? No speeding tickets and lower insurance rates!

Keep 'em Inflated - Picture yourself out on a long walk. You can choose between old flip flops or a good pair of walking shoes. What will get you there faster and with less effort? Not those poorly-cushioned flip flops.

Full tires = better mileage. Check your tire pressure regularly!



It's the same with your car. Poorly inflated tires are proven to reduce your gas mileage, as is driving in a car that needs an oil change or isn't in good condition.




Turn it Off - Letting you car idle (i.e., keeping it running when it doesn't need to be) is like pouring money down the drain.
I once had a friend who loved to stop by and visit for 20 minutes or more...all the while leaving her car running in my driveway while she was in my house. I can't imagine how much gas she must have wasted each year!
Waiting for your sweetie while she runs in the store for a minute? Park it. Turn it off. 'Nuff said.
For more ideas for making your gas go farther, check out www.fueleconomy.gov/.
Looking for more ways to save, including on entertainment and eating out?
Check out our Discount Travel & Entertainment Deals page.



Return from Cheap Gas to Virginia Beach Family Vacation Getaway

Go to Site Index