Best Romantic Restaurants in the Virginia Beach Area



If you want quiet romantic restaurants in the Virginia Beach area that stir up memories of those special times, here are our recommendations for a meal to remember...


---
The Commodore Dinner Theater

Remember the feeling you used to get in school the day of the big dance?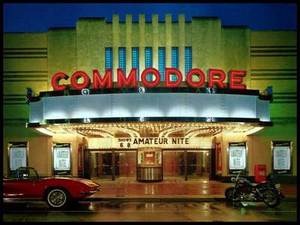 That thrill of anticipation in the pit of your stomach because you couldn't wait for the evening to begin?

That's how we feel whenever we go to this romantic restaurant and cinema cafe. The Commodore Dinner Theater is a beautifully-restored 1945 art deco style dinner theater.

To find out why we go to The Commodore Dinner Theater every chance we get, click here.



---
Steinhilber's Thalia Acres Inn

Here's a romantic restaurant you won't read about in the local tourist guides. But what a find!
A little dressier than most Virginia Beach area eateries, this steak & seafood-oriented, family-run spot is a hidden treasure in the Thaila community.
Overlooking the Lynnhaven river, this quiet, candle-lit, intimate setting is just the place to relax, hold hands, and recharge.
The lobster bisque soup is a treat and comes with its own little bottle of bourbon so you can add an extra "bite" if you wish. They also earn raves for their butterfly shrimp, crabcakes, and of course, their lobster!
You'll love to come back, but do yourself and the rest of us a favor...shhhh...don't tell anyone about it! Let's keep it our secret!
Price: $$$. Location: 653 Thalia Road, VBeach - 757-340-1156. (Be sure to call for directions--this is not on the beaten path!)


---
Crab Shack Seafood Restaurant on the James
Okay. The fanciest place, this is not. BUT, we keep coming back to this restaurant for dates, thanks to its fantastic view of the James River. It's undoubtedly one of the best places around to dine while watching a spectacular sunset.
The Crab Shack is located on the fishing pier next to the James River Bridge near Newport News. As you get out of your car, you'll probably say "hello" to casual fishermen taking out their rod and tackle to see what they can catch.
Enter the wood-paneled restaurant, and you'll have the choice between sitting inside or out on shaded patio right over the water. In the summer, we prefer inside (we're wimps for air-conditioning).
As the sun goes down, it reflects brilliantly off the water, turning it into liquid gold. It's the perfect spot to unwind after a long day.
The food is reasonably priced and heavy on seafood...but always fresh. I like to get their crab cake appetizer (lots of crab, little filler) and their she-crab soup, an amazingly creamy concoction with a dash of red pepper.
My husband loved the stuffed flounder, which is filled with a delicious crab mixture. Starting to see why it's called the "Crab Shack?" No worries: they offer non-seafood items too.
The Crab Shack is open for lunch and dinner seven days a week. It's located at 7601 River Road, right next to the James River Bridge in Newport News.




Return from Romantic Restaurants to Virginia Beach Family Vacation Getaways