Want to Find a Fabulous Virginia Beach Restaurant?
Why should you listen to my recommendation for a fabulous Virginia Beach restaurant?
Here's the facts. I'm married to an Italian, and let's face it...those people know good food! That food better be delicious, or they won't be back.
(I still remember being a newlywed and my extreme shock that my husband's family was willing to drive nearly ONE HOUR to a restaurant just to get the "best" ice cream. I would have been happy with any old ice cream parlor. Fifteen years of being married to an Italian and my tastes have become much more refined.)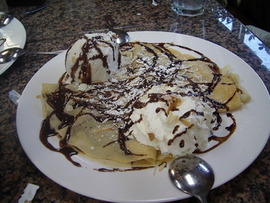 NOTHING is more delicious than a Baker's Crust crepe!
So take it from a bunch of Italians with highly-evolved taste buds: these are our family's recommendations for a great Virginia Beach restaurant.


(Want to save money when you eat out? I do! The best dining program I've found is Restaurant.com. You can save over half off the cost of your meal.)
Want to eat well without paying an arm and a leg? Here are three more tips for getting deals at a Virginia Beach restaurant.


---
Rockafeller's

You can't go to Virginia Beach and not eat seafood. It's the perfect addition to your Virginia Beach resort vacation experience.
Here's a Virginia Beach Restaurant that more than lives up to its stellar reputation.
Rockafeller's combines F-R-E-S-H lobster, crab, shrimp, clams, fish--and any other seafood you can imagine-- with great service and atmosphere. Perched on an inlet, Rockefeller's is a favorite for the locals, many of whom pilot their boats and jet skis right up to the dock, then dip inside for a fabulous meal.
Don't miss their she crab soup (plenty of crab, not too creamy or peppery), and their crab cakes (all crab, no fillers), which you can get grilled, fried, or blackened.
Rockafeller's is a VERY popular Virginia Beach Restaurant, so if you have kids, come early and take advantage of their "Beat the Clock Specials": free salad and dessert with purchase of an Early Bird Entree. Other specials include Monday Night Prime Rib ($12.99), Thursday Night Lobster (2 one-lb. lobsters for $24.99). Sunday Brunch entrees start at $3.99.
While you're waiting for your meal, pass the time reading through the Sunny Day Guide and Virginia Beach Visitors Guide coupon books (you'll find them at the entrance to the restaurant) and look for coupons.
They often include a free postcard inside, so you can write to your friends and tell them what a great Virginia Beach family vacation getaway you're having...
Location: 308 Mediterranean Avenue, 757-422-5654, www.rockafellers.com.


---
Chick's Oyster Bar
Similar in feel to Rockafeller's but cheaper, very casual, and more earthy. It's also popular with the dock-your-boat-and-dine crowd. Their popcorn shrimp appetizer is particularly yummy, as is their oyster stew, and crab cakes (save room for their bread pudding.)

This Virginia Beach restaurant is one of our kids' favorite places. It's right on the inlet so you can wave madly at the boaters passing by while waiting for your meal(yep--keeps 'em occupied). Last time we were there the kids walked up and down the dock counting jellyfish floating by.
Location: 2143 Vista Circle - 757-481-5757


---
Baker's Crust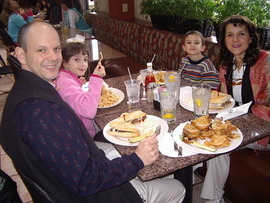 Back at Baker's Crust with Aunt Cindy!
Simply delicious. There's no other way to describe Baker's Crust-- a well-loved Virginia Beach Restaurant. We've been going to Baker's Crust for years!
(Yes, that's one of their Nutella and chocolate crepes at the top of the page.)
We love this place so much, we've give it its own page.To see why we drool over Baker's Crust, click here.


---
Steinhilber's Thalia Acres Inn

Here a hidden Virginia Beach restaurant, perfect for a quiet evening out--preferably without kids. It's a lovely spot for an anniversary or a romantic evening. This is more of a date restaurant--or a special girls night out. Click here for a full review.



---
Taste Unlimited

Grab an upscale take-out meal while heading to the next attraction! This place calls itself "Hampton Roads' leading specialty food and wine retailer." We call them a trendy place to grab a quick, gourmet sandwich or salad. Eat in or take out a delicious sandwich to munch on while dipping your toes in the surf. Mmmm...
Taste Unlimited has 6 locations; 3 in Virginia Beach and 3 in the greater Virginia Beach area.

Locations: Virginia Beach/Hilltop - 638 Hilltop West Shopping Center - 757-425-1858. Virginia Beach/At The Beach - 36th Street & Pacific Avenue - 757-422-3399. Virginia Beach/Bayville - 4097 Shore Drive - 757-464-1566. Norfolk/Ghent - 1619 Colley Avenue - 757-623-7770. Chesapeake/Greenbrier - 1580 Crossways Boulevard - 757-424-4583. Norfolk/Downtown - 109 E. Main Street (inside Prince Books) - 757-627-3330.


---
A Virginia Beach Restaurant Near the Boardwalk

After a hard day of sun and surf, you may want a place where you can just fling on your flip flops and pop on over for meal. Or, you may want to dine while watching a spectacular ocean sunset.
These are boardwalk or near the boardwalk restaurants are fantastic...AND we'll show you how to eat at them for much less. Here's are our secrets for getting the best restaurant deals in Virginia Beach!



---
...And for a Little Romance...

Looking for somewhere for that special date? A relaxing "kid-less" evening? We love to share about our favorite date restaurant, a restored, 1950's Art Deco dinner theater where you can dine and watch first run movies. It's romance personified! Click here for our recommendations for the Best Romantic Restaurants in the area.



Return from Virginia Beach Restaurant to VB Family Vacation Getaway

Go to Site Index