Free Yorktown Events & Festivals

Riverwalk Landing boasts a variety of free Yorktown events and festivals which are the perfect fix for a cheap weekend getaway or an inexpensive family vacation.

Here are the spring and summer events and contact numbers:
The Fife and Drums of Yorktown
Experience the full Colonial experience listening to the Fife and Drums of Yorktown, a group of young men playing colonial and military marching music. In summer, they play on select weekdays and weekends at the Riverwalk Landing, and at the Yorktown Victory Monument.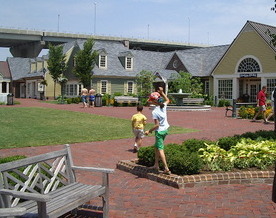 They also play on Sundays in June, July and August at 3:45 pm, at the Yorktown Battlefield Victory Center (included with admission).  For details, call (757) 898-9418 or Click here for the schedule of Yorktown events on the day you're visiting. 
Military Band Concert Series 
Tuesdays in August, 6:30 pm 

Different military bands will perform at these free Yorktown events. Events include Naval Weapons Station Yorktown 94th Anniversary Band concert (August 7), Heritage Ramblers Dixie Ensemble from the USAF Heritage of America Band from Langley Air force Base (August 14), U.S. Army Training and Doctrine Command Band from Fort Eustis (August 21), Rhythm in Blue Jazz Ensemble from USAF Heritage of America Band (August 28). 

Be sure to bring your blankets, lawn chairs, and a picnic to Riverwalk Landing. For more info, call (757) 890-3500.

Carrot Tree Kitchens Wine Garden Series
Wednesday-Fridays, June - October

Enjoy Carrot Tree Kitchens' new Wine Garden with these afternoon events on Wednesdays from 3:30-5 pm, and Thursdays & Fridays from 3:30 to 6:30 pm, June through October. They'll serve "relaxing" beverages, Carrot Tree appetizers, and of course, Virginia peanuts in this historic building. If you stay for their delicious dinners, be sure to order their signature carrot cake!


Shagging on the Riverwalk Beach Music Concert Series
Thursdays in June, July and August
Riverwalk Landing, 425 Water Street

These annual free concert nights run from 6:30-9:30 pm, and feature beach music for all ages. Bring your lawn chair or blanket and picnic to these Yorktown events sponsored by York County Riverwalk Landing.
Shagging on the Riverwalk Beach Music Concert Series information: (757) 890-3520.

Yorktown Market Days at the River
Saturdays, May through September, 8 am - Noon
Riverwalk Landing, Between Buckner and Ballard Street

This free weekly event showcases fresh produce, seafood, meat, baked goods, flowers, plants, homemade cheeses, soaps and candles. It also has entertainment and art. Plus, local chefs will provide cooking demonstrations.

For more information, call (757) 890-3520 or click here for the Market Days webpage.


Annual Yorktown Independence Day Celebration
July 4, 4 pm to 10 pm

Join this day of family activities and celebrate our independence where it was actually won! The day of family-oriented activities includes a parade, 5K run, arts and crafts, kids' games and pony rides, a classic car show, live entertainment, and food.


At 8 pm there will be a patriotic concert by the Fife and Drums, followed by fireworks at 9:15 pm. Go to this link for more info: http://www.yorkcounty.gov. 

Yorktown Independence Day Celebration information: (757) 890-3500. 


Yorktown Maritime Weekend 
Generally the first weekend in June, 9:30 am to 5:30 pm - Riverwalk Landing 

In conjunction with Norfolk Harborfest, Yorktown celebrates tall ships with tours, live entertainment, and family fun. Ships open for public tours have included "The Spirit of Bermuda," Jamestown Settlement's "Godspeed," and "LYNX "America's Privateer." 

Tours take place at Riverwalk Landing, generally from 10 am to 4 pm Saturdays and Sundays. You can also view the parade of sail in the York River from 2-4 on the Saturday of Harborfest weekend as the ships make their way down to Norfolk Go to my Norfolk Harborfest page for this year's details.
---
Beyond Yorktown Events: What Else to See and Do 
The best way to start in Yorktown is the take a free ride on the Yorktown Trolley, which tours the village of Historic Yorktown from the Yorktown Battlefield to the Yorktown Victory Center, including the shops at Riverwalk Landing. It runs weekends April 2 - 14 and then daily from April 15-Oct. 31.

Besides the free Yorktown events, the main things to do in Yorktown are: 
Yorktown Battlefield
- One ticket gets you into Historic Jamestowne, too! (It's a great deal.) Yorktown Victory Center
Go to the Beach - Rarely crowded, it has a great view of the York River. 
Browse the shops at Riverwalk Landing 
Browse the antique shops up on the bluff
Eat at historic Carrot Tree Kitchens and sample their famous Carrot Cake



Virginia Beach Family Fun