Ocean Breeze Water Park...
for Less!
Water, water, everywhere! And what a blast! The Ocean Breeze Water Park is the hottest (or coolest, depending on how you look at it) place to go in Virginia Beach.

Just 1.5 miles from the waterfront, it's the only water park in Virginia Beach. So what's it like? How does 16 water slides, a 1 million-gallon Runaway Bay wave pool, a Buccaneer Bay children's area, West Indies BBQ, Island Trader Gift Shop, and Shipwreck Island Arcade sound?

Look below for links to coupons and tips for saving up to $16 per ticket...
Our fave spot: the Runaway Bay Wave Pool, which generates boogie-board worthy waves from time to time. When you hear Queen's "We Will Rock You" you'd better run to the Wave Pool--that means they're about to start making waves.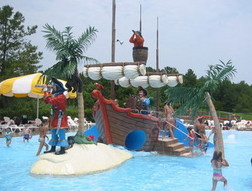 There's pirates at more at the park.
A few tips:
Don't forget the sunblock!
Be prepared for a workout! You have to climb lots of stairs to reach the slides on most of the rides.
Although you could probably take a chance and just leave your clothes on a chair (not money, of course) they offer convenient lockers where you can stash your stuff all day. Lockers are $7 for the day, but you get back $2 after you return the key, so they really only cost $5. We were able to stuff four people's worth of stuff into one locker. The keys are strung on elastic bands that you can wear safely on your arm.
For little ones and those who are a little unsure of their swimming ability, they offer life vests. Kids rides include a fun Pirate Ship, so there's something for the whole family.
Pass on the inner tube rental. It costs $7 for a two-person inner tube, but since you can only use it in the Wave Pool, it's not really worth it.
---



Admission...and how to get




discount tickets
Hours: open daily starting at 10 am from Memorial Day through Labor Day each summer. Closing hours vary wildly; after school is out (mid-June) they're open until 6 pm or 7 pm, and until 10 pm on Fridays and Saturdays. Make sure you call to find out the exact hours for the day you want to visit. Ocean Breeze Water Park phone number: (757) 422-4444.
Admission
All-day (Single-day) Admission prices are as follows (note: they don't include city or sales tax):
Adults $32.99 
Children (3-9) $24.99
Children (2 and under) FREE 
Season Passes: $69.99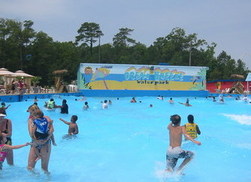 The Runaway Bay Wave Pool at Ocean Breeze Water Park.
Promo Codes & How to Save
Buy in advance:

Adult tickets are $29.99 when you purchase them in advance online. However, they tack on a $1.25 convenience fee, so you're saving closer to $2. (No online discount for child tickets)

Use a promo code: Pick up a Sunny Day Guide (available at the stands along Atlantic Avenue or go to www.sunnydayguide.com). They often have coupons for $4 off at-the-door admission. 
Go at twilight: Their Twilight Ticket lets you pay just $19.99 when you arrive after 4 pm.
Go on Fridays: Their Twilight Ticket is just $13 per person on Fridays PLUS you can see a movie on the big screen by the pool at no extra charge.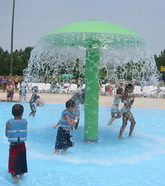 Try Virginia Beach Vacation Market, which has locations along Atlantic Avenue at 16th, 25th, and 31st Streets. Open 7 days a week, they offer discounts to Ocean Breeze Water Park and other local attractions and restaurants.
***Water Park Camp! They also offer a Lifeguard Camp. For details, go to the Ocean Breeze Water Park website: http://www.oceanbreezewaterpark.com/events/. 
---

Directions to Ocean Breeze Water Park 
The park is conveniently located near the Virginia Beach boardwalk, next to the Virginia Aquarium & Marine Science Center. You can take the other Wave" - The Virginia Beach Trolley" - to get there from the boardwalk area.
Just take the Route 31 Museum Express (the yellow line) which runs from the south end of the Boardwalk and ends at the Virginia Beach KOA campground.
If you want to drive to there, here is a Google map. 
---



Looking for more things to do in Virginia Beach?
Check out these links for more great activities and tips for Virginia Beach!
Virginia Beach Family Fun

›

Virginia Attractions
› Ocean Breeze Water Park