Holiday Lights at the Beach: Cruise and Be Dazzled!
McDonald's Holiday Lights at the Beach $2 off coupon & military discounts below!
Santa...in the sand?
Rolling out Nov. 16-Jan. 1, this event a magical family fun attraction. Located at the Virginia Beach Boardwalk, it's the perfect way to start the holiday season. Join 30,000 people who flock annually to this festive and creative light display on the oceanfront.
Don't worry--that's 30,000 over the entire holiday season--you won't have to battle them all at once! Still, go with what the locals know: Saturday nights have the biggest crowds, so stick with Friday and Sunday nights.
Here's something else the locals know: It's one of the holiday highlights of the year. In fact, it's been named one of the Southeast Tourism Society's "Top 20 November Events" the last few years. Some of the top sights at this extravaganza include a "Twelve Days of Christmas" light exhibit, a three-story Christmas tree of lights, and a "surfin' Santa."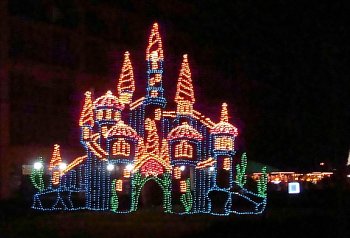 Cruise the boardwalk and get a free CD!

This is your once a year chance to actually "cruise" the boardwalk. (Note: There is an entrance fee for cars, but you can cram as many people into your car as your like!) This fee includes a free CD featuring music to light up your magical journey down the dazzlingly lit boardwalk.
When: Sunday-Thursday, 5:30pm – 10:00pm Friday-Saturday, 5:30pm – 11:00pm
Location: Virginia Beach Oceanfront, 2nd Street to 34th Street
Method: Your Car!
Cost: CASH ONLY! $10 per car Sunday-Thursday
$15 per car Friday-Saturday, Thanksgiving and Christmas Day
Limos $20; Motor coaches $45; Mini Buses $25
$20 Combo Tickets (Holiday Lights and Norfolk Botanical Garden's Garden of Lights)
Special Military Discount!
On Mondays November 26-December 31, active military get a 20% discount.
$2 off coupon! - Get $2 off per car when you download and present this coupon.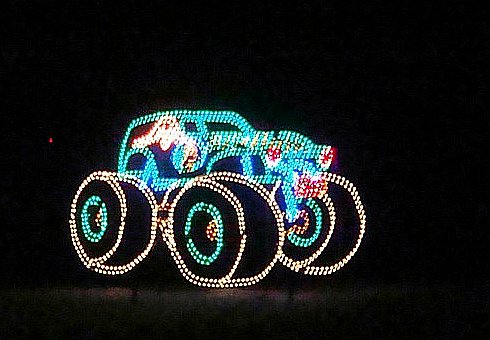 Just one of the amazing sights you'll see on your boardwalk cruise.

So c'mon...come see Santa at the beach.
It's just one more reason Virginia Beach is such a great family vacation destination...year-round.
---

Looking for More Holiday Events?

Looking for more holiday fun?
Check out these links:
For November & December holiday events, click here
For our top three favorite holiday itineraries, click here


Return from Holiday Lights to Virginia Beach Area Events

Go to Virginia Beach Family Fun Home Page

Go to Site Index