Christmas Town Tips

Hours, Quick Queue Passes, What to See (and Skip), plus
Money-Saving Tips
I have to admit, Christmas Town at Busch Gardens Williamsburg far exceeded my expectations. The lights this year are more spectacular than ever (my personal favorite is the amazing river of lights on Escape from Pompeii-- mind-boggling!).

But DON'T visit the park until you've read these tips I learned on my recent visit.
---

Christmas Town Tips
You'll learn:
Info on Quick Queue Passes (and whether they're right for you)
What you can see BEFORE 3 pm

Best places to take photos

The attraction to SKIP (unless there's absolutely no line!)
How to save money on food
The one thing you should wear (so you don't get lost!)
---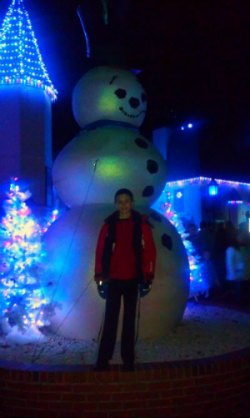 Park Hours (plus what you DON'T know)

Running on weekends and on select days of the week Nov. 21-Dec. 31, the park is open Fridays through Sundays (Nov 21-23, Nov. 28-30, Dec. 5-7, then daily Dec. 12-24, and 26-31 (with the exception of Christmas Day). Park hours vary by day, so go to "Parking & Hours" below for details.
One thing I WISH I'd known before I visited: Although the park technically doesn't open until 3 pm, it actually opens hours earlier so you can walk around visit the shops long before the rides and shows begin. Here's what opens early:
England opens at 1 pm

Scotland/Ireland/France/New France opens at 1:30 pm

Italy/Holiday Hills opens at 2 pm

North Pole/Oktoberfest opens at 2:30 pm

Skyride and Railroad open at 2:30 pm
---
Quick Queue Passes
Busch Gardens Williamsburg also offers a Christmas Town Quick Queue Pass which gives you priority seating at shows and lets you hop to the front of the line on select rides.
Quick Queue Passes start at 30 per person. Prices vary depending on the date and time you want to visit. All provide one-time priority access to Santa's Workshop and the Ice Palace: A Penguin Paradise. It also gives you reserved seating at Gloria! (3:30pm), Miracles (5:30 pm), and Deck the Halls (8:00 pm).

Plus, you'll get unlimited priority access to Santa's Workshop, Ice Palace: Penguin Paradise, and one-time priority access to Verbolten.
The Quick Queue Pass is certainly not for everybody since the cost is in addition to the regular admission fee. (Ouch!) so it's really best for hard-core amusement park afficionados, or those who've really want to maximize their time.
Like the concept but wrong season? For details on Quick Queue Passes during Howl-O-Scream, click here.
---

Best Places to...
Best places to eat while being entertained:
Oktoberfest's Das Festhaus - Eat while watching "Deck the Halls" musical
Italy's Ristorante Della Piazza - Eat while watching "Miracles"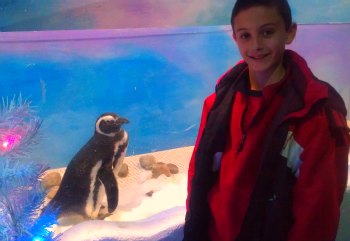 Best places to see the lights:
From Nacht Tower (it's Mach Tower without the big drop - the ride goes slowly up and slowly down, giving you plenty of time to take photos)
From the Skyride - a perfect bird's eye view - going from Germany to England is generally the fastest line
From the Train
From the Here's to the Heroes bridge leading from Italy to the North Pole
---
Must-Sees and What to Skip...
My highlights of Christmas Town include all the shows (especially Glory (the true meaning of Christmas in song), Miracles (a little song, a little ballet), and Deck the Halls.
As I mentioned, at Christmas, Mach Tower is now Nacht Tower, giving you all the joys of a great view without the scary, sudden drop (a good or bad thing depending on whether you like to be scared).
Take my advice: Do NOT waste time in line to see Ice Palace: Penguins if you have to wait more than 5 or 10 minutes. We waited for an hour to see it opening night and WOW what a let down. It's just a few rooms with maybe 10 penguins behind glass, nothing you can't see at a good zoo. B-o-r-ing.
---
Must-wears and How to Save Money...

Once Christmas Town gets dark, you'll be amazed at how hard it is to see your friends and family (particularly in the Scotland/Ireland/France part of the park, which is considerably darker than the rest). It's a recipe for losing the little ones. So take my advice: Skip buying the brightly lit hats, wands, and other things at the park to find each other. Stop by the Dollar Store ahead of time and buy glow sticks or light up necklaces for your party so you can find each other in the crowd. 
As for saving money on food at Christmas Town, try these tips:
Bring your own snacks/water bottles - they say you can't bring them, and they do check bags, but as long as their small, they never take them away from me
Buy Refillable Holiday Mugs - For $5.69, buy a plastic mug full of peppermint hot chocolate and you can get refills for 99 cents. Save more by sharing one with the whole family.
Split a meal - At most restaurants, portions are so large you can easily share an entree and a drink (just ask for an extra cup). Examples includes the meat entrees and wraps at Trapper's Smokehouse, which are huge!

To find what you're looking for, go to my Site Index.
Virginia Beach Family Fun

›

Busch Gardens
› Busch Gardens
Christmas Town
› Christmas Town Tips