Luray Cavern Virginia - Admission, Hours, Events and Discount Tickets
Look below for four ways to get discount tickets at Luray Cavern Virginia.
Want to experience a place like nowhere on earth? Luray Caverns is the place! I've got a full review, ways to get discount tickets, admission and operating hour information, details on the Caverns other attractions (including their car museum and garden maze), a link to a video of their stalagpipe organ in action, and more.
For a full review of what you'll see at the Cavern, the video, and other attractions included in admission, go to my Luray Cavern Review page.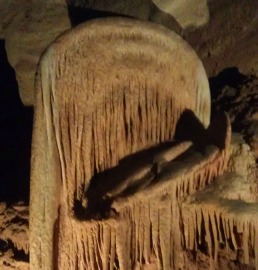 Admission and Discount Ticket Information
The Cavern is open every day of the year. Guided tours depart about every twenty minutes and the tour takes about one hour.
Tours begin daily at 9 am and run every 10-20 minutes. Each tour takes about 1 hour. Last tour departs at:
6 p.m., April 1-June 14 
7 p.m., June 15-Labor Day
6 p.m., day after Labor Day-Oct. 314 p.m., Nov. 1-March 31 (5 pm weekends)
Admission (includes the tour of Luray Caverns Virginia and the adjacent Car and Carriage Caravan Museum):
$24.00 Adults
$ 12.00 Children (6-12 years)
$21.00 Senior Citizen (62+)
Group Rates (Min. 20 or more paying persons)
$15.50 Adults
$ 7.00 Children (thru 12)
(Rates are subject to change.)
---
Discount Tickets & Coupons, Plus Where to Stay
As with just about everything, ticket prices have gone up (about $3 per ticket the last few years). So take advantage of these possible discounts (they're subject to change, so check early!)
AAA membership discount - $2.00 off each adult admission (up to 6 adults) with your membership card
Giant or Martin's Bonus card - one 50% reduction off second regularly-priced ticket (up to 6 adults per card, 3 at full price and 3 at 50% off)
Participating companies and military bases (check Human Relations departments) - $5.00 off adult tickets
There are two motels nearby: Luray Cavern Motel West and Luray Cavern Motel East. Both have swimming pools and free wifi. Both offer golf package deals at the nearby golf club.
But for something really fun and different, I recommend Yogi Bear's Jellystone Park Camp Resort. This multi-faceted family camp is the kind of place families come back to year after year. They offer campgrounds and cabins, as well as multiple pools, a water zone and water slide, jumping pillows, miniature golf, laser tag, and a variety of daily activities at no extra charge. And they're just 5 miles from Luray Cavern Virginia! Check them out at http://www.campluray.com/
---
Upcoming Luray Cavern Virginia Events
Here's the special events planned for 2013:
Luray Festival of Spring - May 11
Fireworks & Fun at Luray - July 4
Luray Internation Triathalon - Aug. 17-18
Page Valley Cycling Road Race - Aug. 3
Civil War Weekend - Sept. 6-7
Virginia's Civil War 150 Remembrance - Luray Valley Museum - Sept. 7-8
Civil War Reenactments of Wapping Heights - Sept. 7
Battle of Luray 1864 Remembrance - Sept. 8
Virginia Beach Family Fun

› Luray Cavern Virginia