Kingsmill Resort & Spa Lets You Luxuriate Without a...ahhh...


The assignment: go to the elegant Kingsmill Resort & Spa in Williamsburg, have a half-day spa treatment, and write a review.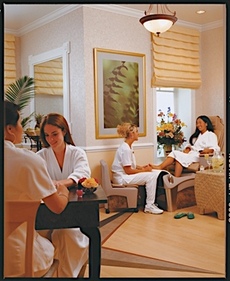 © 2007 Busch Entertainment Corporation. Reproduced
by permission of Kingsmill Resort & Spa. All rights reserved.
The Resort is world-renowned for its resort facilities, including a heavenly spa and LPGA tour golf course. Plus, it's close to
Busch Gardens Williamsburg
and Water Country USA.
Someone had to go...wish it had been me, but alas, I couldn't leave the kids. Guess who got the job? Someone with both more time and more disposable cash on her hands: Grandma! Lucky girl. Here's what she had to say...(Caution: Grandma's writing style is highly "stream-of-conscious"...just go with the flow!)
"Luxuriate!...It's the only word that can express a day at the Kingsmill Spa.
Put on a luscious white fluffy robe...waited in a tranquil reading room (what? I'm actually taking time to lounge here and read a paperback book?) to wait for treatments. Massages take place on heated pads with warm blankets; rooms are kept a wee bit cool, but the heated pad, warm oils and hot river stones are sooooo refreshing...
Time for the facial. The charmingly helpful attendants only use the most exotic cleaners...then exfoliate and moisturize. While they mist my face, delicate fragrances add to the delight...
On to the body wrap - the entire body is exfoliated with subtle scrubs, rinsed and then moisturized; wrapped in fine paper, again more warm towels. While relaxing, I receive the best head massage in my life. Oooh, I'm melting...
Finally, a pedicure and manicure -- primped on every end. Top it all off with a hot wax hand dip that seems to reach the marrow of my bones. Scintillatingly delicious!
Practically floating to my charming room, I spent the evening at the resort. The spacious rooms overlooked the James River, where I was treated to a breath-taking sunset (no extra charge). Still floated, I fell into a luxurious bed, pilled high with a feather comforter and pillows.
Would I go again to Kingsmill Spa? What do you think? Go! I couldn't have been more pampered and the staff couldn't have been more gracious and skilled. No doubt, when you arrive, you'll be stiff with tension, pressure, or stress. No worries. By the time this efficient staff finishes, you won't have a care in the world..."
(Thanks for the review, Mom. Next time, YOU take the kids and I'll go...)



---
Spa Packages-- What Price, Luxury?


How much does such a decadent spa experience at Kingsmill Resort cost?
The Kingsmill Resort Spa Indulgence Package
From: $329 per person per night
Includes:
Minimum two nights lodging in one of our luxurious guestrooms
Breakfast and Dinner daily (Room Service Not Included)
150 minutes of spa services per person
One Spa Cuisine lunch per person
Unlimited fitness classes
$30 per person toward purchase of spa products
---

Family Vacation Package - Luxury AND Amusement Parks


The perfect combination! Busch Gardens Williamsburg, Water Country USA, AND a top resort.
The Kingsmill Resort Family Vacation Package includes:
3 Nights of Lodging in a luxurious guestroom
Unlimited admission to Busch Gardens Williamsburg and Water Country USA for the length of your stay (up to 7 consecutive days)
Complimentary transportation to and from Busch Gardens and Water Country USA
One VIP access ticket per person to Griffon and Curse of DarKastle…The Ride at Busch Gardens Williamsburg
One lunch or dinner at Busch Gardens per person
Breakfast daily
Complimentary green fees on Kingsmill's Plantation Course after 2:00 pm daily (a $30.00 + tax per person, per round cart fee applies)
Complimentary court fees at the Kingsmill Tennis Club after 11:00 am
They also offer fantastic "Kids Kamps" (perfect for giving you a a kid-less morning, afternoon or evening).



---

And for a Romantic Getaway...

The Kingsmill Resort "Suite Romance" Package
- 2-Nights/3-Days from $699 per couple
Includes:
2 nights lodging in a luxurious One-Bedroom Suite
A split of Champagne served with chocolate-covered strawberries
Dinner for 2 one evening in any one of our fine restaurants (excluding alcohol)
Breakfast for 2 one morning delivered to your room



Spa, golf and other services can be added at additional cost. For example, they have a "Day for Two at the Spa" Package, which includes four hours of the following for $660: Couples Massage, European facial for two, manicure for two, pedicure for two, and a Spa Cuisine Lunch for two.

For more information on these or any other Kingsmill Resort packages, go to www.kingsmill.com.



Return from Kingsmill Resort to Busch Gardens Williamsburg


Return from Kingmill Resort to Romantic Weekend Getaways