Top Williamsburg Shopping Spots...The Deals Keep Coming!


Want a full run-down on the top Williamsburg shopping spots?
Mind stopping for a joke first?
The Virginia Gazette recently asked the question "Why do tour buses have so much storage space underneath?" Their answer?
"So there's always enough room for the shopping bags from the outlet malls."
Yep. A bit lame. But true outlet shoppers perk up. Fact is, Williamsburg shopping outlets draw more visitors annually than Colonial Williamsburg. (Guess savings trump history anyday.)
Think of all your top favorite stores crammed into one compact area along Route 60 and Lighfoot...that's the Williamsburg shopping mecca. Bliss for hard-core bargain hunters (like me!).
OK, here's what you'll find:
Williamsburg Prime Outlets-- - Our #1 Favorite Savings Spot!
80 stores including Bose, Royal Doulton, Waterford, Le Creuset, Jones of NY, Tommy Hilfiger, Gap, Coldwater Creek, Aeropostale, J. Crew, and Harry and David's, Liz Claiborne, L.L. Bean, Coach, Eddie Bauer, Nike and the only Lladro outlet in the country. New for 2008: Adidas Outlet Store, ALDO Shoes, American Eagle Outfitters, Bath & Body Works, Burberry, Charlotte Russe, Disney Outlet, Icon Sunglasses, Journeys, Juicy Couture, Kate Spade, Kenneth Cole, Lucky Brand Jeans, True Religion, Pac Sun, Papaya, PUMA, Sketchers, and Tommy Bahama.
Also new for 2008 is a food court, including Sbarro's, China Max, and a deli. Oh, if you're doing back-to-school shopping, take note: some stores here now carry school uniform supplies.
We've gotten some incredible bargains here! We once bought t-shirts from this famous designer at Prime Outlets for only $1...
Patriot Plaza Premium Outlets--
Includes Donna Karan, Ralph Lauren, Lenox and Ben & Jerry's
Williamsburg Outlet Mall--
The stores at the "step-child" mall include Levi's, Dockers, Dexter, Jockey, Bass and Farberware. If it were the only outlet mall within 50 miles, I might be more impressed. As it is, with so many superior outlet malls nearby, I find it really underwhelming. Last time I was there (for after-Christmas sales) it was practically deserted (while the Prime Outlets was absolutely packed).
I really only stopped there because I wanted to get a first-hand look at the One Stop Shop, since I'd read that they offered Busch Gardens discount tickets. Well, they do, but what a disappointment. It's really little more than a kiosk in the center of the mall.
So unless it's raining (this is an indoor mall, unlike Prime Outlets and Patriot Plaza), or unless you want to visit a specific store, it's probably not worth your time. And if you want Busch Gardens discount tickets, here's where to get them.

The Williamsburg Pottery Factory--
Acres and acres of EVERYTHING, from dried flowers, to housewares, to a make-your-own-lamp shop. We've been finding bargains here for years. What a funky and eclectic place! Here are the best bargains we've found at the Pottery.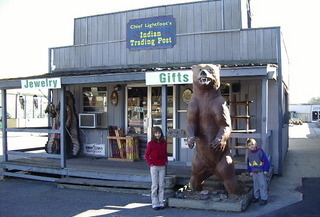 Williamsburg Antique Mall--
Over 400 dealers offering unique gifts and finds, from Depression glass to turn-of-the-century silver.
Basketville of Williamsburg--
Basket-lovers will find discounts on handmade baskets from around the world.
Williamsburg Doll Factory--
Not just a store, but an excursion, where you can watch artisans craft delicate Lady Anne dolls.
Lenox Factory Outlet--
Broke a dish or two? Replace that hard-to-find Lenox pattern, plus see White House Presidential china at their museum.
Looking for one-of-a-kind finds & historical fun?
Colonial Williamsburg Historic Shops--
Buy a gift they can't get at Toys R' Us-- go for the unique! How about a tri-cornered hat for your grandson? Or a penny whistle or authentic hoop game for your little one? You can buy handmade Colonial-style jewelry, silver spoons, pewter, handmade candy, candles, costumes, bakery items at more at the Colonial-themed shops at Merchants Square and Colonial Williamsburg.
(Did you know that you can see some of Colonial Williamsburg for free? Here's how...)
Check out this service: the historic shops will even deliver what you've bought to your Colonial Williamsburg hotel room or to the visitor center..for free.
Colonial Williamsburg's Merchant Square--
Merchants Square boasts 41 shops and restaurants along its brick-lined walks. Personally, we love the Christmas store, Whyte's Candy makers, Barnes and Noble (it has a nice children's section where you can plant the kiddies awhile while you give your feet a breather), and the toy store.


Return from Williamsburg Shopping to Colonial Williamsburg

Return from Williamsburg Shopping to Home Page

Go to Site Index