Norfolk Harborfest Sails Into View June 6-9!
Tall ships, fireworks, and fun...for free! The 37th Annual Norfolk Harborfest event, Virginia's largest summertime festival, sails into view June 6-9 at Town Point Park in downtown Norfolk, Virginia.
New for 2013: The Festival starts off with the AT&T HarborFEAST Seafood Sampler on Thursday, June 6th from 6-9 pm
Harborfest will officially kick off on June 7 at Noon with a fantastic Parade of Sail, as the tall ships arrive accompanied by a regatta of pleasure boats.
Here's the tentative route: Ships will start at the Lynnhaven Roads anchorage and go through the Thimble Shoals Channel, pass the Chesapeake Bay Bridge Tunnel and then Hampton's Fort Monroe, and then sail up the Elizabeth River to Norfolk. as tall ships sail into the harbor from Cape Henry and down the Elizabeth River to downtown Norfolk.
The ships will do a reverse sail-away on Sunday, June 9 at noon. 
---
What to See and Do
From noon to 8 pm June 7-9, and at assorted times on other days, visitors will be able to play "pirate for a day," climb aboard and tour authentic tall ships, peruse the wares of local artists and crafters, and listen to live musical acts.
Family entertainment includes "yo-yo" masters, face-painting, a "Pirate School of Little Scalawags," balloon artists, and more.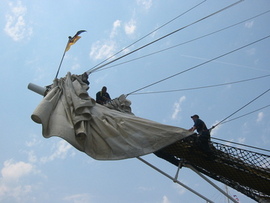 There's a reason this maritime entertainment extravaganza is one of our favorite Virginia Beach events, and a top contender in our Cheap Family Vacation Getaway hall of fame. It's really breathtaking to watch these amazing tall ships--relics of a bygone era--glide stately by with their full, billowing sails.
Couple that with toe-tapping entertainment, swashbuckling pirates regaling you with stories that will "shiver your timbers," and countless arts and crafts vendors to search for one-of-a-kind gifts, and you'll have the perfect fun (and inexpensive) event.
We find the hardest part is deciding what to eat! You'll have your pick from everything from the mundane (hot dogs) to more unique fare like roasted corn and crab cake sandwiches. Don't miss the funnel cakes--light and airy with powdered sugar.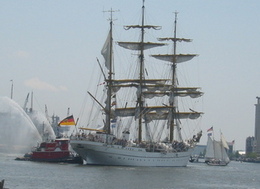 And if you really want to sample something different, you can buy a Fried Twinkie! (Thanks, I'll pass...)
The highlight of the Norfolk Harborfest is a huge and elaborate fireworks display on Saturday at 9:30 pm.
Norfolk Harborfest celebration hours vary greatly by day, so for specific details, go to the main Harborfest website.
---
Tall Ships You Can Tour Year-Round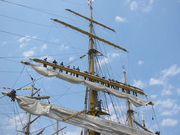 Even when Norfolk Harborfest is over, you can still enjoy these magnificent sailing ships. Several of the ships that participate in these events are berthed in the Hampton Roads area, and are available for tours or day sails.
The Alliance (Yorktown waterfront)
This 80-foot schooner sails three times daily from the Yorktown's Riverwalk Landing Pier during the summer.
Alliance Cost: $30 adults, $15 for children. Sunset sails are $35 for all passengers. 
Alliance Hours: Daily excursions at 11 a.m., 2 p.m. and 6 p.m. 
Alliance phone number: 757-639-1233.
Godspeed, Susan Constant, Discovery at Jamestown Settlement
A new replica of the Godspeed has been touring to commemorate Jamestown's 400th anniversary. While they don't do day sails, visitors can climb aboard any of the park's three recreated ships and learn about 17th century navigation.
Jamestown Settlement Cost:$16 for adults, $7.50 for children 6-12. 
Jamestown Settlement Hours:9-5 p.m. through June 14; 9-6 pm June 15-Aug. 15 
Jamestown Settlement phone number: 757-253-4838.
American Rover at Waterside Marina in Norfolk
This 22 year-old, 98-foot vessel was inspired by 19th century cargo schooners, and makes pleasure cruises on the Elizabeth River and Hampton Roads. It can carry up to 149 people.
American Rover Cost: $12-$22 adults, $10-12 children 
American Rover Hours: 11:30 a.m. Wednesday-Sunday, as well as daily cruises at 3 p.m. and 7 p.m. They also have a Saturday night party cruise at 10:30 p.m. The ship may also be hired for private charters, so call ahead for exact times and dates. 
American Rover phone number: 757-627-7245.
Looking for more to do in the Hampton Roads/Norfolk area? Don't miss these attractions, including the best crepes in chocolate/Nutella crepes in town, funky and nostalgic Doumar's drive-in, the world-famous the world-famous Chrysler Museum of Art, and our #1 Girls Spot, Rowena's Tea Room.
Plus, you can even go on a free mermaid scavenger hunt! 
Virginia Beach Family Fun

›

Virginia Attractions
› Norfolk Harborfest