Nauticus - From Touching Sharks to Building Battleships
Nauticus is one of those museums that we keep coming back to.
Mothers Day May 12 - Free admission for all moms with a paying child.
It has everything: buttons and simulations, cool exhibits, interactive games, tanks for touching slimy and spiny creatures, huge screen movies (at no extra charge!)…and a real battleship.
You can...
Climb in a recreated sub and operate a 9-foot long robotic arm to collect samples from the seabed...or use a remote-controlled camera to explore a recreation of the USS Monitor wreck site.
Touch a real nurse shark as it swims by in the Shark Petting Lagoon (it feels like sandpaper!)
Pick up touch exotic sea creatures, such as starfish, hermit crabs, horseshoe crabs, and urchins, in a simulated tide pool

Ahoy, mateys! We're ready for our tour!

Pretend you're in orbit 20,000 miles above the earth at NOAA's "Science On A Sphere" exhibit, where you can touch a tornado, strike a spark, and learn about lightning, and other weather oddities
Hunt for bogeys and subs with modern computer simulation games
Engage in a battle of wits at the Battleship X Design Center, an interactive theater where you race America's best ship designers on the eve of World War II to create the greatest battleship ever
Not enough?
Don't miss the Battleship USS Wisconsin, which is berthed next to Nauticus and included in admission.
The Wisconsin is one of the largest U.S. battleships ever built, and earned five battle stars during WWII.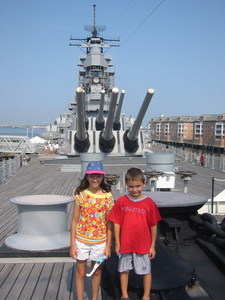 You'll feel dwarfed beneath the Wisconsin's guns.
You really can't appreciate the immense size of the ship (and its huge guns) unless you're actually on it.
Our highlights?
As usual, our kids really like the touch tanks (how often are they told, "Please, DO stick your hands in the water!").
The nurse sharks swim hypnotically round and round the tank, and feel like sandpaper when you brush your fingers against them.
Be sure to ask a docent to pick up one of the horseshoe crabs and turn it upside down so you can get an up-close view of the spider-like legs.
If you like nautical and science museums, or other hands-on spots, check out our reviews of other local attractions:
---

Admission, Hours, Directions, and Free Stuff
The admission includes access to all exhibits, plus the hi-def movies "The Living Sea" and "Gateway to the World":
Adults: $13.95; Seniors/
Military/AAA: $12.95;
Children (4-12): $9.50
Hours: 9 am-5 pm daily, Memorial Day to Labor Day. The rest of the year it's closed Mondays, open 9 am-7 pm Tues-Sat, and open Noon-5 pm Sunday. It's closed Thanksgiving, Christmas Eve, Christmas Day, New Year's Eve, and New Year's Day. They do have a small cafeteria for snacks and light fare.
Discounts on Homeschool Day
If you homeschool, don't miss their special Homeschool Day on Feb. 28, featuring reduced admission and special hands-on activities. Adults get discounted admission for $10, while kids get in for $8 (ages 4-12).
What about parking? There is no dedicated parking area, so you'll either have to find a spot on the street (but remember to watch the time) or try one of the city parking lots within walking distance.
Nauticus address: 1 Waterside Dr, Norfolk, VA. Nauticus phone number: (757) 664-1000.
On board the USS Wisconsin
Nauticus Directions: Here's a link to a Google Nauticus map.
Don't forget to visit Hampton Roads Naval Museum and Battleship Wisconsin - they're free!
Located on the second floor of Nauticus, the Hampton Roads Naval Museum features scads of ship models, underwater artifacts, and exhibits on important naval battles and ships, including the USS Monitor.
Even young kids will find enough to entertain them, at least until you move on to the real prize: being able to climb all over the adjacent Battleship Wisconsin, a full-size, decommissioned US Navy ship. Marvel at its immense size, walk the decks to your heart's content, and be sure to have someone take a picture of you under the huge guns on the foredeck.
Click here for details on the Hampton Roads Naval Museum...
And remember to look for mermaids!
Nearby you'll find one of the "Mermaids on Parade," the whimsically-decorated sculptures which you'll find throughout Norfolk. Use them to go on a free Mermaid Scavenger Hunt. For details, go to our "Mermaids on Parade" page.
Looking for somewhere to eat?
Two of our favorite places to eat are within a short drive. Bakers Crust has fabulous fresh breads, sandwiches, and entrees. Don't miss their delectable Nutella and Chocolate Crepes. Or, plan ahead and make reservations for a yummy afternoon tea at Rowena's Tea Room. They even offer free samples of their pound cakes!


---

Special Exhibits and Events

Check out these special Nauticus events:
Kids are free in January! During January, kids ages 4-17 get in free with every paying adult.
February deals They usually offer a February discount like the "2-for-1" deal I've outlined above.
Mother's and Father's Day - On Mother's Day, moms are free with a paying child. On Father's Day, it's Dad's turn!

Fridays on the Fantail Film Festival - Select Fridays in the summer at 8:30 pm, bring your camp chair and see a classic movie on the fantail of the Battleship Wisconsin. Price is $3 per person and doors open at 7:30 pm.



---

How to Get in for Less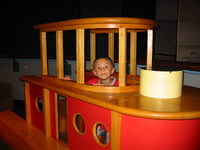 They even have kid-sized boats!
Go in the Winter: They offer a promo during the month of January, which allows up to TWO children (ages 4-12) to get in for free when accompanied by a paying adult.
Be a Teacher: Certified educators get into Nauticus for free to preview exhibits and programs for future "field trips." Just show your teacher ID at the Guest Relations desk.
Look in Visitors Guides: The Sunny Day Guide offers coupons good for $1 off admission. Or you can visit their website to download a coupon: www.sunnydayguide.com.



Return from Nauticus to VA Beach Attractions

Return to Main Page

Go to Site Index