What's Happening at Bush Gardens Williamsburg?

Bush Gardens Williamsburg offers great shows daily, including
Celtic Fyre,
an Irish step dance extravaganza,
Sesame Street Presents
, a family-friendly 3-D show,
Festivale Italiano
, and
Pet Shenanigans
.
But they also offer a variety of special events and musical acts during the season. Here's the latest scoop on upcoming events during the season, details on Christmas Town and Howl-O-Scream, a link for military discounts, and details for finding discount tickets and tips for making your visit the best it can be.
Look below for the summer celebration: "IllumiNights"!
---

Spring and Summer Events at Bush Gardens Williamsburg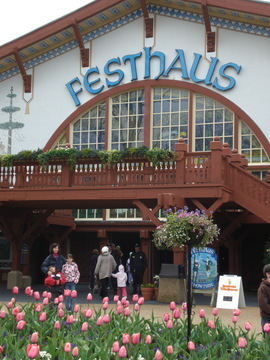 Das Festhaus, home of the perpetual Oktoberfest.

All Spring and Summer events are included in the cost of admission!
And before you make plans to attend these events, check our Busch Gardens Hours & Operating Schedule.

• Ramp Jam - weekends April 21-22 & 28-29
Skateboarders unite! This event from the ASA Action Sports World Tour features professional skateboarders, BMX, and inline skating gurus.
• Glory in the Gardens - May 6 & 20, June 10 & 24
Top Christian groups will perform at the Bush Gardens Williamsburg contemporary Christian concert series.
May 6 - Newsboys, Abandon, Anthem Lights
May 20 - Kirk Franklin
June 10 - Chris Tomlin, The City Harmonic
June 24 - Third Day
•"Busch Gardens Live" Series - May 13, June 3, June 17 & Aug. 26
See these groups perform live - free with regular admission!
May 13 – Cobra Starship
June 3 - Hot Chelle Rae
June 17 - Kellie Pickler
August 26 - Victoria Justice




• Fourth of July Fireworks Extravaganza (July 1-4, 9:15 pm nightly)
Celebrate our nation's birthday with Bush Gardens Williamsburg by day and a fantastic fireworks display by night. Best fireworks viewing spots: Italy, Germany, and of course, from the top of Griffon!
• "IllumiNights"!
Running July 1 through August 13, Busch Gardens Williamsburg is hosting "IllumiNights, a night-time celebration featuring fireworks, live entertainments, and special effects throughout the park. And it's absolutely free with admission.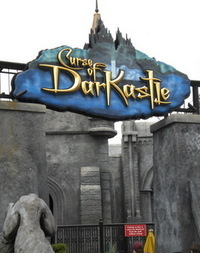 Do you dare brave the Curse of DarKastle
during Howl-O-Scream?

• Pretzel Coaster Build-Off (July - Dates to be announced)
Not much news yet, but it involves own coaster using your ingenuity and pretzels. But do you get to eat it when you're done? Check back as info becomes available...
• Wild Days (Sept - Dates to be announced)
See a variety of wild animals-- wolves, eagles, and more-- up close and personal and introduced by Bush Gardens Williamsburg animal professionals.
• Labor Day Weekend Concert (Sept 1-3)
Celebrate the end of summer with a concert. Previous years' concerts were headlined by Peter Noone, of Herman's Hermits fame. Known for songs including "Something Tells Me I'm Into Something Good," Herman's Hermits sold 50 million records nationwide, so say good bye to summer with this blast from the past.
• Howl-o-Scream (Weekends, Sept 14-Oct 28)
Howl-O-Scream will celebrate its 12th year of chills this year-- and it's still available at no extra charge! Get spooked at the haunted houses, "scare zones" and spooky shows, and learn why so many people make this a must on their Halloween list. Click here for our dedicated Howl-O-Scream page.
• Christmas Town - Select dates in Nov/Dec.
See below!



---

Christmas Town!
Two years ago, Bush Gardens Williamsburg offered a new event: Christmas Town! Now, every year you can make your holiday season special by visiting the park as millions of shimmering lights transform it into a winter wonderland.
Santa and roller coasters? Yes to the first, it depends to the second. Of course, Santa will make a visit each night. As for the rides, as the official website states, "Some rides and attractions are weather dependent" (and won't be open).
Depending on the weather, "Griffin" is one coaster that's open. But you'll have to forgo rides like "Escape from Pompeii" and "Roman Rapids." (No problem here: While I love getting wet on these rides in July, the thought of braving them in chilly December is just too much to bear!)
Christmas Town will be open Fridays, Saturdays, and Sundays November and December. Click here for exact Christmas Town dates and hours.
To learn more about Christmas Town, including admission, go to our dedicated Christmas Town page.



---

Get a Military Discount


Are you an active member of the military? Anheuser-Busch has long offered a military tribute to the troops by continually renewing its "Here's to the Heroes" program. The program--offered at all Anheuser-Busch parks nationwide-- offers free admission to service members and their families. Click here for details on getting in free to Bush Gardens Williamsburg and other parks, plus other valuable military discounts...



---

How to Make the Most of Your Visit

Getting ready to ride the Flying Machine.

As season pass holders, we have the inside scoop on the best of Bush Gardens Williamsburg. So we can tell you the best day of the week to visit, how to save money, which are the best shows, reviews of rides like Griffon, and other tips you need to make your family vacation getaway a blast.
You'll find our important tips and recommendations by clicking on this link.
Then, there are our extensive tips on how to get the deepest discounts on tickets and season passes. Here's our exclusive discount ticket information.



Return from Bush Gardens Williamsburg to BG Main Page

Go to Site Index

Go to Home Page - VB Family Vacation Getaway